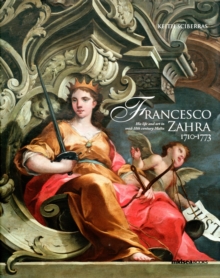 Francesco Zahra 1710-1773
Hardback
Description
This book celebrates the 300th-year anniversary of Francesco Zahra's birth in 1710 and seeks to show the extraordinary range of the artist's output.
Zahra was Malta's most important native painter of the mid-18th century and his style wonderfully captured the spirit of the Late Baroque.
He was extremely prolific and could handle the brush with a fascinating ease, thus furnishing Maltese churches with hundreds of paintings, large and small.
His extraordinary creative spirit also ensured that his pictures breathed the compositional freshness of mature artists. Francesco Zahra produced various designs for church furniture, marble altars, silver artefacts, liturgical vessels and other objets d'art that still survive scattered around the island.
Zahra's output can be divided into a number of phases and this book seeks to trace such evolution and development.
It also seeks to re-evaluate some of the most important works of his oeuvre. Zahra's early style is his weakest and was largely dependent on the works of his first tutor Gio Nicola Buhagiar (1698-1752).
The 1730s were largely dominated by the artistic affinities of these two painters and there were instances when it was difficult to tell them apart.
Zahra reached his early maturity by 1740 when his art started to depart from the manner of his tutor.
By the mid-1740s, Zahra was the most important native painter on the island, only to be challenged by the arrival of the Frenchman Antoine Favray.
Zahra's interest in proper disegno and in the work of Mattia Preti and Favray made him modify his style and - by the mid-1750s - adopt a more solid approach.
His figurative forms changed and the general atmosphere of his works became more sophisticated.
Francesco Zahra marked Maltese mid-18th century art with his timbre and distinctly shaped the character of religious painting.
His decorative appeal and theatrical manner complemented the context of the period and made him one of the most fashionable of the Baroque painters active in Malta.
Information
Format: Hardback
Pages: 272 pages, col illus throughout
Publisher: Midsea Books Ltd,Malta
Publication Date: 01/12/2010
ISBN: 9789993273196
Free Home Delivery
on all orders
Pick up orders
from local bookshops
Also by Keith Sciberras