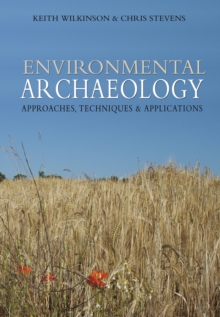 Environmental Archaeology : Approaches, Techniques & Applications
Paperback / softback
Description
What did the landscape of Stonehenge look like in its Neolithic heyday?
How did Ancient Egyptians produce their food? Such questions can be addressed by environmental archaeology - the study of past people from biological remains and geological phenomena.
Environmental Archaeology shows the methods used by archaeologists not only to reconstruct landscape settings of archaeological sites, but also to determine what people ate, the raw materials they used and the technology that allowed them to farm, hunt and build.
In this revised version of their 2003 book Keith Wilkinson and Chris Stevens explore the environmental archaeology from first principles.
They discuss the concepts that underpin the subject, outline the techniques used by environmental archaeologists and explain how biological and geological data are used to illuminate the archaeological past.
The book is written for those who have some archaeological knowledge but no background in the natural sciences, or vice versa.
It is a pragmatic guide to the subject, taking the reader step-by-step through approaches, methods, theory, and focusing particularly on interpretation/ The authors' intention is to highlight the importance of environmental archaeology in the reconstruction of the interaction between life and landscape in the past.
Information
Format: Paperback / softback
Pages: 320 pages
Publisher: The History Press Ltd
Publication Date: 01/03/2008
Category: Environmental archaeology
ISBN: 9780752419312