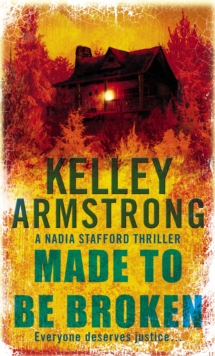 Made to be Broken
Paperback
Description
To the outside world Nadia Stafford is a smart, good-looking, law-abiding citizen.
Well, two out of three's not bad...An ex-cop with a legal code all her own, Nadia has a secret life as a world-class assassin.
She works only for one New York crime family, who pay her handsomely to bump off traitors.
But when a troubled teenager and her baby vanish in the woods near her home, Nadia's old detective instincts - and the memory of a past loss - compel her to investigate.
With her enigmatic mentor Jack to support her, Nadia unearths sinister clues that point to an increasingly dark and deadly mystery.
As her obsession over the case deepens, Nadia realises that the only way she can right the wrongs of the present is to face her own painful ghosts - or die trying. And so she sets off on the trail of a young woman no one else cares about - and a killer who is bound to strike again...
Information
Format: Paperback
Pages: 416 pages
Publisher: Little, Brown Book Group
Publication Date: 26/02/2009
Category: Crime & mystery
ISBN: 9780751538137
Free Home Delivery
on all orders
Pick up orders
from local bookshops
Reviews
Showing 1 - 4 of 4 reviews.
Review by seekingflight
16/06/2015
I enjoyed Exit Strategy, the first in this series about Nadia Stafford, a former policewoman turned contract killer, but only so long as the jobs she's paid to do fit within her own principles. I suppose the fun was in the little details, like the professional courtesies between characters who were thrust together, but had a vested interest in their real identities remaining hidden; and the interactions between characters whose safety depends on maintaining a certain degree of professional paranoia. I didn't enjoy this book nearly as much. It's about Nadia's investigation of the disappearance of a young unwed mother and her baby from her small town community. The lack of concern from locals about the disappearance and ongoing investigation trigger some traumatic memories from Nadia's own past. But I wasn't really a fan of the mystery element to the story. I almost never complain about characters who vocalise their self-doubts (and indeed, I often quite like them), but Nadia's constant feelings of inadequacy and self-doubt started to grate on me for some reason, and the relationship arc of the novel felt depressingly bland and predictable. Not as enjoyable as I had hoped.
Review by lewispike
16/06/2015
I quite liked this book whilst i was reading it, but on further reflection it's gone down from 4.5 to 3.5 stars.Why? Well the action is quite satisfying. Most of the people that get killed are, undeniably, wicked. Not sure they deserve to die, but they certainly deserve to be punished.I guess I have, however, an issue with hitmen going on a vigilante spree and that is what this series is turning into, with a sprinkling of romance for good measure.If there is a third book in the series, I'll probably give it a go, but I think the formula needs to change to be appealing to me.
Review by MikeFinn
16/06/2015
In "Made To Be Broken", the second of the Nadia Stafford series, we finally get inside the head of this hitwoman-with-principles. I found this book much more compelling that the first, which had that Series 1 Episode 1 fell to it.This book reads alound much better than the first, the theme has more emotional impact and the backstory gets some real depth.I hope that there will be a third in the series soon
Review by comixminx
16/06/2015
Liked this a lot; didn't want to put it down, got caught up in Nadia Stafford's concerns and passions and dilemmas. I hope the love angle doesn't stay too torturously unresolved in future books; I can see that Armstrong could keep it up in the air for a while if she carries on as in book 1 and 2.
Also in the Nadia Stafford series | View all