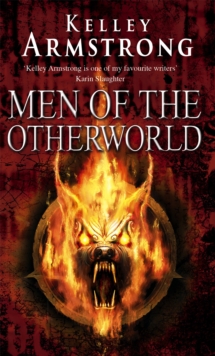 Men Of The Otherworld : Book 1 of the Otherworld Tales Series
Paperback / softback
Description
'A page-turning thriller. Fans of the paranormal will delight in the eighth Women of the Otherworld yarn, with its ass-kicking, Bollywood-beautiful, former-socialite heroine and full complement of sorcerers, witches, werewolves, and other paranormal beings.' - Booklist 'Another great read from one of the masters of urban fantasy.
Fast-paced plots and concise, well-drawn characters define Armstrong's work.
Her world-building and continuity are flawless. I never miss one of her stories.' - FreshFiction.comI don't remember the first time I changed into a wolf. One night I passed out, and awoke to find my body covered in yellow fur. My brain was beyond reacting. It took this in its stride, as it had everything else in my new life. I got to my feet and went in search of food. As a curious and independent six-year-old, Clayton didn't resist the bite - he asked for it.
But as a lone child werewolf his life is under constant threat.
So when enigmatic Pack member Jeremy Danvers saves him, Clayton is determined to protect his adoptive father, no matter what the cost.
So begins this gripping collection of four tales chronicling the bloody feuds of the American Pack, and the coming of age of Clay Danvers, a very powerful - and very singular - werewolf. Kelley Armstrong's first short story collection - a gripping medley of tales involving many of her much-loved characters. Books by Kelley Armstrong: Women of the Otherworld series Bitten Stolen Dime Store Magic Industrial Magic Haunted Broken No Humans Involved Personal Demon Living with the Dead Frost Bitten Walking the Witch Spellbound Thirteen Nadia Stafford Exit Strategy Made to be Broken Wild JusticeRocktonCity of the LostA Darkness AbsoluteThis Fallen PreyWatcher in the WoodsAlone in the Wild Darkest Powers The Summoning The Awakening The Reckoning Otherworld Tales Men of the Otherworld Tales of the Otherworld Otherworld Nights Otherworld Secrets Otherworld Chills Darkness Rising The Gathering The Calling The Rising Cainsville Omens Visions Deceptions Betrayals Rituals
Information
Format:Paperback / softback
Pages:384 pages
Publisher:Little, Brown Book Group
Publication Date:29/01/2009
Category:
ISBN:9781841497433
Also in the Otherworld Tales series | View all