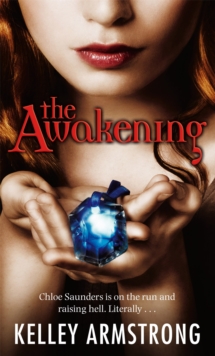 The Awakening : Number 2 in series
Paperback
Description
Chloe Saunders used to be a normal teenage girl - or so she thought.
Then she learned the shocking truth - she is a walking science experiment.
Genetically altered at birth by a sinister group of scientists known as the Edison Group, Chloe is an aberration - a powerful necromancer who can see ghosts and even raise the dead, often with terrifying consequences.
Even worse, her growing powers have made her a threat to the surviving members of the Edison Group, who have decided it's time to end their experiment - permanently . . .Now Chloe is running for her life with three other supernatural teenagers - a charming sorcerer, a troubled werewolf and a temperamental young witch.
Together they have a chance for freedom - but can Chloe trust her new friends?
Information
Format: Paperback
Pages: 368 pages
Publisher: Little, Brown Book Group
Publication Date: 01/04/2009
Category: Fantasy
ISBN: 9781841497112
Other Formats
Paperback from £7.85
EPUB from £4.99
Free Home Delivery
on all orders
Pick up orders
from local bookshops
Reviews
Showing 1 - 5 of 6 reviews.
Previous | Next
Review by lewispike
16/06/2015
My only problem with this book is the age of the characters. Whilst I understand what it adds to the story, children around the age of puberty are annoying, and that remains true here.However, past that, it's good read. Chloe's love of film is used nicely; sometimes it gives her good ideas, sometimes it leads her somewhat astray. Her morals are challenged as are her survival instincts. However, she never makes critically bad choices without someone there to rescue her.There's the start of some sort of understanding of her powers, although I'm sure there's much more to come. Looking forward to the next book, although I hope there's more adult books too, YA can be a wearying read.
Review by MrsBakitch
16/06/2015
This is a fantastic series and I can't wait to read the final book.
Review by wyvernfriend
16/06/2015
Chloe learns more about her powers and about the fact that she doesn't really control them. She also learns about the Edison Group and finds that things aren't as benevolent as they seem. The other three Tori, Simon and Derek, also have to work on their powers and on their relationships. Things are complicated and messy and nothing seems to be in any way straightforward.I'm curious now as to what's going to happen next. It didn't quite gel for me, somehow the characters didn't seem to feel well-grounded in the world but I'm hoping that will resolve itself over the next few books.
Review by Elysianfield
16/06/2015
The Awakening starts from where The Summoning left. Chloe, Tori and Rae has been recaptured by the Edison Group. Chloe and Tori escapes and starts to search for Derek and Simon. After they are reunited they decides that the best solution is to look for a family friend of Derek and Simon who could help. They're trying to learn to control they're new powers and to figure out what was done to them.<br/><br/>It's been some time since I read the first book and didn't remember these were so much fun!<br/><br/>Chloe is trying to learn how to control necromancy and her power just seems to grow. She's also trying to accept what she learned about her Aunt who was always there for her. <br/><br/>I like her , and the fact that she doesn't come complete idiot when a boy is around, and she is starting to believe in herself more. Sure she does some stupid decisions that leads her needing to be rescued but still. From the first book she has had a crush on Simon who is this nice, thoughtful guy but there is also Derek who most of the time is kinda rude at everyone but at times is kind and caring.<br/><br/>I liked Simon and thought he was fun but Derek is the mysterious one. Chloe understand him and helps him with his struggle with the wolf. And I can't feel hoping there would be more between the two!<br/><br/>I wish we would have been told more about how the kids have been genetically altered. It's told that they were but never more than that. And it doesn't come clear what is supposed to be normal so you don't really know how different the kids really are.<br/><br/>Personally I found it interesting when we found out that Simon has diabetes. It doesn't come across often in the books and not with something about medication plan explained. And even though it's not a big deal in the story, there is still the proper information.<br/><br/>I really enjoyed this and it was kinda quick read too. Can't wait to start Armstrong's adult serie too!
Review by Krumbs
16/06/2015
Again, fun, but less fun than the first book as the characters are mostly running and getting away and running and arguing, etc., etc., so nothing is resolved and the story doesn't move forward that much. And this one gets one fewer stars due to the partial story. You can't read this book without the first book (it would make no sense) and the book doesn't end, it just comes to an abrupt halt as a hook for the third book.
Also in the Darkest Powers series | View all