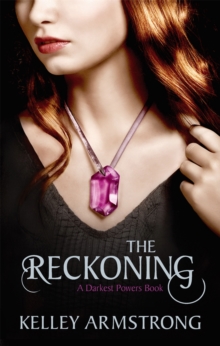 Description
The nail-biting climax to Kelley Armstrong's bestselling Darkest Powers trilogy Chloe Saunders is fifteen and would love to be normal.
Unfortunately, Chloe happens to be a genetically engineered necromancer who can raise the dead without even trying.
She and her equally gifted (or should that be 'cursed'?) friends are now running for their lives from the evil corporation that created them.
As if that's not enough, Chloe is struggling with her feelings for Simon, a sweet-tempered sorcerer, and his brother Derek, a not so sweet-tempered werewolf. And she has a horrible feeling she's leaning towards the werewolf...Definitely not normal.
Information
Format: Paperback
Pages: 400 pages
Publisher: Little, Brown Book Group
Publication Date: 01/03/2011
Category: Fantasy
ISBN: 9781907410086
Other Formats
Paperback from £7.85
EPUB from £4.99
Free Home Delivery
on all orders
Pick up orders
from local bookshops
Reviews
Showing 1 - 3 of 3 reviews.
Review by Kayla-Marie
16/06/2015
Awesome ending to an amazing series! The only complaint I have is that a couple of the action scenes, namely the one with the werewolves, could have been shortened a bit, but other than that it was perfect. I think that Derek and Chloe are so sweet together and I really hope to see them again in Armstrong's new Darkness Rising series.
Review by sithereandread
16/06/2015
THE RECKONING, by Kelley Armstrong, is the third and final installment of the Darkest Powers Series. We continue from where the kids are in a safe house and are debating their next move to rescue the others from the Edison Group. They join forces with adult supernaturals who rebel against the Edison Group, but complications arise when the kids find out how powerful they really are.This book was the perfect ending to this series. Many questions were answered and relationships resolved, and the journey was spectacular. In this book, Chloe's skills were becoming more powerful and more difficult to control. I enjoyed getting a deeper look into the world of a necromancer. There were great uses for the gift but being inexperienced did not help matters of raising the dead. There were some instances that everything went right for Chloe and I wanted to jump up and down with happiness for her, she is truly one of a kind. The love triangle with Derek and Simon was explored and resolved. I think fans of this series will be pleased with the result.One of the more enjoyable parts of this book was Derek's transformation and first Change. I am a big fan of Armstrong's Otherworld series and my favorite characters are the werewolves. I enjoy the human qualities that she gives to the werewolves in her books and this one was no different. The support that Chloe gives to Derek during this time is incredibly sweet and kind.This book had a lot of action and suspense. These troubled kids were not given any guidance throughout their time at the Edison Group so they were left to explore their talents on their own with consequences. The situations that they faced from the supernatural adults were dangerous and thrilling. This story will definitely keep you gripping the pages for dear life.Overall this was a great ending to the series, and I look forward to the next young adult series involving other supernatural kids and another project from the Edison Group.
Review by sensitivemuse
16/06/2015
***possible spoilers***This was a fantastic conclusion to the series and I wouldn't know how to end it as good as this. I am glad some of the loose ends have been tied up, however there are still some that are left open. I wonder if there's going to be more to this (I hope!)The pace is slower than usual, but in return you get great character development Each of these characters had their own issues, and although the bickering still continues, each of them have grown up and matured. What I enjoyed reading was more into Chloe's gift as a necromancer. There is a lot more to her 'gift' and that provided some good interesting reading. What was also interesting was Tori. Although still snarky at times, she's kept that in check and even manages to help and defend Chloe when needed. I thought she grew up and matured the most. I started liking her a lot more as the trilogy unfolded, at first I used to hate her a lot, now she ended up being much more agreeable and likable. I was so happy with Chloe and Derek! I loved them both together. There was a sense of togetherness and they compliment each other so well. I loved how Chloe was so supportive of Derek and his 'condition', and Derek would protect Chloe by any means possible. I think they made a great couple!The story overall was good despite having some loose ends open and close. The writing was still excellent and there were still moments where you had the heebie jeebies. There were quite a few extreme tense moments (especially when you find out who's on who's side) and this was great to read, but what I enjoyed the most were the moments with Chloe and Derek. I really loved reading about them together. It was nice seeing these characters develop and grow as the story went along. The ending was really good with a few revelations revealed. Some might say it's not really an ending as it leaves things to be settled. I still say this was a great ending to this trilogy and I want to know if there's going to be more to it. Tori has become such a fascinating character all of a sudden that I wish there's going to be more on these great characters and how they're going to manage living on. It's a great series and not one to be missed! I absolutely recommend this for YA Paranomal readers out there!
Also in the Darkest Powers series | View all