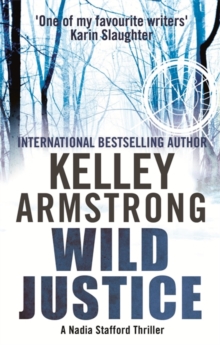 Wild Justice : Number 3 in series
Paperback
Description
Ex-cop Nadia Stafford has a dark secret. After taking the law into her own hands she was kicked off the force... and entered the shadowy world of guns for hire. She has her own strict code - works only for one crime family, only kills the really bad guys.
But when a hit goes tragically wrong, Nadia is devastated.
Is it time to leave the business for good?Before she has time to decide, Nadia discovers that her own life is under threat. And worse - that terrifying events from her past may have triggered the attacks.
With the help of Jack, her enigmatic mentor, Nadia is forced to upon a dark path - towards the truth and towards her final destiny.
Information
Format: Paperback
Pages: 368 pages
Publisher: Little, Brown Book Group
Publication Date: 26/11/2013
Category: Thriller / suspense
ISBN: 9780751550092
Free Home Delivery
on all orders
Pick up orders
from local bookshops
Reviews
Showing 1 - 3 of 3 reviews.
Review by bkjake
16/06/2015
An excellent wrap-up of an exciting trilogy! You really got to know the characters even better than in earlier books in the series, proving that character development can continue past the first book when the author is skilled at their craft. Lots of plot twists kept me reading way past my bedtime. And although many issues for our heroine were resolved by the end of this story, the door is still left ajar for future adventures.
Review by Fidget78
16/06/2015
Oh yes!! The final installment in the Nadia Stafford series. Well worth waiting for.<br/><br/>What I liked: It seems like forever since I read the first two books in this series and enjoyed them so much. I got all I wanted in Wild Justice and then some. Jack has been my favorite character in this series and he's front and center with Nadia and the upheaval her life has become. Lots of secrets revealed and explained in a logical, creative way!! Ms Armstrong ties everything together and reveals so much about the characters that I couldn't put Wild Justice down. This series shows the versatility of Ms Armstrong as an author. She's not a one trick pony with her urban fantasy series. Women of the Otherworld is a great series and she writes good fascinating heroines. This series is different but with the same strong characters.<br/><br/>What I didn't like: The series ended. I will miss Nadia and the crew and especially Jack!<br/><br/>The prices for Wild Justice are reasonable for a best selling author. The Kindle version is $7.99 and the paperback is $8.48<br/><br/><br/>Highly recommend!!
Review by ChristineEllei
27/08/2015
Nadia Stafford owns a lodge in the wilderness of Northern Ontario. She used to be a cop. Now, she's a hitman. But a hitman with a code of ethics, a conscience and a need to right a wrong that can never really be made right again.<br/><br/>You would think it would be difficult to like a character that kills people for a living, but like Dexter, Nadia only kills the bad guys.<br/><br/>This is the third and final book in this trilogy, so I was anxious to see how all the elements introduced in the first two books were resolved in this last book. I must say I wasn't disappointed. Ms. Armstrong wrapped everything up very nicely. I enjoy Ms. Armstrong's books and this one was no exception, however, I cannot say if it's because she is loathe to let her characters go or if she just felt a need to wrap up the series so finished Nadia's story, but Wild Justice seemed quite repetitive in places. Scenarios and conversations kept repeating so I wasn't as compelled by the action as I felt I should have been. It was a nice last visit with the characters anyway.<br/>
Also in the Nadia Stafford series | View all