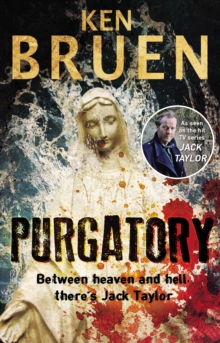 Purgatory : A Jack Taylor Noir Thriller
Paperback
Description
Someone is scraping the scum off the streets of Galway, and they want Jack Taylor to get involved.
A drug pusher, a rapist, a loan shark, all targeted in what look like vigilante attacks. And the killer is writing to Jack, signing their name: C-33.
Jack has had enough. He doesn't need the money, and doesn't want to get involved.
But when his friend Stewart gets drawn in, it seems he isn't been given a choice.
In the meantime, Jack is being courted by Reardon, a charismatic billionaire intent on buying up much of Galway, and begins a tentative relationship with Reardon's PR director, Kelly.
Caught between heaven and hell, there's only one path for Jack Taylor to take: Purgatory.
Information
Format: Paperback
Pages: 352 pages
Publisher: Transworld Publishers Ltd
Publication Date: 10/04/2014
Category: Thriller / suspense
ISBN: 9781848271203
Other Formats
Paperback from £9.45
EPUB from £3.99
Free Home Delivery
on all orders
Pick up orders
from local bookshops
Reviews
Showing 1 - 1 of 1 reviews.
Review by AHS-Wolfy
16/06/2015
Jack Taylor is in a relatively calm place. Recovering from events of the previous book he's off the drink and drugs and he's even given up smoking. Those that have spent time with Jack previously will know that things are about to change and not for the better. This 10th instalment in the series sees the eponymous <I>hero</I> receiving notes from a vigilante killer who wants Jack to join in on the fun. But the notes find Jack in a <I>can't be bothered</I> kind of mood, even telling a potential client "No." before she even opened her mouth. So the vigilante moves on to Stewart, Jack's sole remaining true friend, and start sending notes to him instead while still trying to get Jack involved. Meanwhile, there's a new player in town, Reardon is looking to buy up all of Galway and also takes an interest in Jack and this introduces him to Kelly, Reardon's PA, the wrong sort of woman that Jack always seems to get involved with. So who is the vigilante known as C33 and why are they determined to get Jack involved?This is a brutal series and this book may be the worst so far <spoiler>but only if you've been following along with Jack's story to date. Don't ever become friends with Jack Taylor, don't fall for him and don't even do a job for him. In fact, don't even talk to him if you know what's good for you. Best stay away altogether</spoiler>. The darkness that surrounds Jack is still an ever present as is his caustic put-downs, often at the expense of those closest to him. Lots more recommendations on the book front when Jack's bookshelves are once again filled by his local dealer. This time around he's on a women crime-writers kick. He's also trying to increase my <I>to watch list</I> as well when he re-organises his DVD shelves.Another fine entry into an excellent series which I would urge you not to be the first one you pick up otherwise you might not read another Ken Bruen book again.