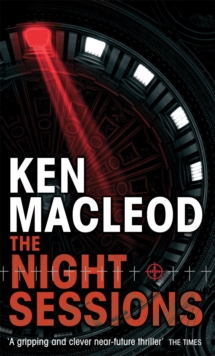 The Night Sessions : A Novel
Paperback
Description
A priest is dead. Picking through the rubble of the demolished Edinburgh tenement, Detective Inspector Adam Ferguson discovers that the explosion wasn't an accident.
When a bishop is assassinated soon afterwards, it becomes clear that a targeted campaign of killings is underway. No one has seen anything like this since the Faith Wars.
In this enlightened age there's no religious persecution, but believers are a marginal and mistrusted minority. And now someone is killing them. But who? And - perhaps more importantly - why? The more his team learns, the more the suspicion grows that they may have stumbled upon a conspiracy way outside their remit.
Nobody believes them, but if Ferguson and his people fail, there will be many more killings - and disaster on a literally biblical scale . . .
Information
Format: Paperback
Pages: 400 pages
Publisher: Little, Brown Book Group
Publication Date: 01/04/2009
Category: Science fiction
ISBN: 9781841496481
Free Home Delivery
on all orders
Pick up orders
from local bookshops
Reviews
Showing 1 - 4 of 4 reviews.
Review by Surtac
16/06/2015
[i]The Night Sessions[/i] by Ken MacLeod is his most recent novel, and it has already picked up the 2009 BSFA best novel award.It is set in a near future Scotland (primarily) and New Zealand, some 30 or 40 years ahead of now (by my guess - it's unclear from the book as I recall it). The Faith Wars (also known as the Oil Wars) are over and the West lost. Nuclear weapons were used on the plains of Meggido. Two space elevators have been built. Giant solar sails help protect the Earth from further warming. Artificial intelligences exist, some of which became self-aware in battlefield epiphanies where they were serving as the controllers of autonomous war robots. Humanoid robots are no longer readily produced.In the aftermath of the Faith Wars, Western governments have spurned religion, and become fiercely secular. Christian fundamentalists have been driven from the US, and many have ended up in New Zealand, some even setting up a Creationist theme park. Some AIs/robots work in the park, and others use the park forests as a common retreat from human society. In Scotland religion is no longer officially recognised but is now tolerated and no longer actively suppressed. DI Alex Ferguson is a veteran of the God Squad police units and remorseful about his old duties. His off-sider, Skulk, is an ex-military AI (called a LEKI) now housed in a body reminiscent of a tripod from the HG Wells' War Of the Worlds, but much smaller.In Edinburgh, a Catholic priest is killed by a homemade bomb. Ferguson is assigned to investigate.MacLeod has here written what was, to me, two distinct novels. One is a futuristic police procedural, the other is an examination of the nature of religion and dogmatism – one that also asks the question: can an AI have a soul? If machine intelligences are possible, are they then susceptible to the attractions of organized religion? And if they are, how might that play out taken to its logical extreme?The book works well for me on both levels. In some ways it's difficult to see the Edinburgh setting and not think of Ian Rankine's Rebus or Jardine's Bob Skinner, but MacLeod does a good job of combining the (literary) familiar and the societal changes of its future setting. I also liked the way he updates the police procedural format with the newer technologies available (clearly extrapolated from modern IT in the main) but preserves its essential nature at the same time.Morgan's Black Man universe can be seen as an interesting counterpoint to this book in a way: in that book, America's religious fundamentalists prevailed and Jesusland was created. In [i]The Night Sessions[/i], MacLeod considers an alternate result and I found myself wondering which of those two possible futures is more likely to occur from where we all stand right now.MacLeod has written a thought provoking book that also entertains d*mn well. Recommended.
Review by AlanPoulter
16/06/2015
This book takes place in 2021, in Edinburgh, where I live, and Rotorua, New Zealand, which I visited when I worked for four months in Wellington. The only incongruity I spotted was the lead character, DI Adam Ferguson, jumping on and off trams in a variety of locations in Edinburgh, which now seems unlikely given the recent cutbacks in the planned routes. The 'night sessions' link these two locations, as they are sermons, given in the morning in New Zealand but listened to live in the evening in Scotland. John Richard Campbell, who gives these sermons, is a free-thinking theologian, who contemplates, among other things, whether intelligent robots can have souls. This is more dangerous than might be expected, as the world is now resolutely secular, after a nuclear exchange in the Middle East. Space is slowly being tamed, aided by two ocean-based orbital elevators. DI Ferguson earned his spurs in the police in the period which saw churches dis-established, and believers dispersed, sometimes by force. A murder of an ex-Catholic priest leads to an escalating series of incidents for DI Ferguson to investigate, aided by his robot sidekick Skulk (an ex-war droid). It seems as though an obscure religious sect are trying to bring on the "end of days", according to some printed religious tracts found in the few remaining churches in Edinburgh. It is no coincidence that the anniversary of 9/11 is nigh. Unlike Ken Macleod's previous novels, politics takes a back seat to religion, and the result is an excellent police-procedural/thriller, with an unexpected twist as to motive. There are plenty of throw-away clever details, such as the need to back up hackable/volatile crime scene digital data with hand-written notes and drawings. If trams might not be ubiquitous in 2021 Edinburgh, at least global warming will have kicked in, so that one can arrive at the airport "to be welcomed by a hot Scottish summer"!
Review by BillHall
16/06/2015
A good sci-fi detective placed in the mid to late 21st Century Scotland and New Zealand after the holy/oil wars associated with the global warming holocaust. By way of background, the various breeds of fundamentalists fought at Meggidio with nuclear weapons, but enough of the world survived so the big corporates were able to construct space elevators and soletas (orbiting sun shades) to begin to ameliorate the global warming. The major revulsion following the holy wars also led most countries (except New Zealand and USA) to marganilize all religions. Scotland had a policy of "non cognizance" where nothing to do with religion was officially recognized or mentioned, although a number of ex mainstream and fundamentalist religious sects survive with small numbers of loyal members.During the holy wars, some AI's in war machines were constructed as or became self-aware individuals, and afterwards these were given civil rights and new humanoid bodies. Many of the robots moved into space to work on the space elevators, moons, planets and asteroids. Others remaining on Earth developed their own society in New Zealand (where they lived rough in a creation science park), where they largely avoided interacting with people. A few ended up working with the Edinburgh police force, where they were known as lekis.The main protagonists of the story are an Edinburgh police detective, his sentient robot pal and assorted fundamentalists along with an a couple of academics and virtual rave scene DJ.The story begins in NZ with a young fundamentalist creationist preaching his interpretation of the gospel to some members of the robot community that happen to have contacts with a small group of human fundamentalists via a robot posing as a mutilado (war victim who has chosen to have injured body parts replaced by robotic prosthetics rather than accept regeneration via stem cell replacements). The mystery to be solved begins with the assassination by bombing of a Catholic priest who seemed to be an enemy of no one.By this time several clues essential to the solution of the mystery have already been presented and the story rapidly develops from there as a compulsive page turner in a way that I think Agatha Christie would have approved.All in all, the story does credit to both of its genres, the detective mystery and hard, idea-based sci-fi. To me, the only hint of weakness is in the conclusion to the story. It was surprizing and followed logically (as it should) from the development of the story, but was not as compelling for me as it might have been with perhaps a little more development and explanation of the killers' motivations.
Review by gregandlarry
16/06/2015
Good story with some interesting characters. Not too deep, though some interesting history.