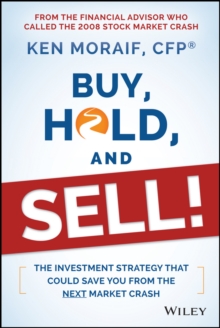 Buy, Hold, and Sell! : The Investment Strategy That Could Save You from the Next Market Crash
Hardback
Description
Protect your retirement from the next big crash with a New Twiston the Old Investment Strategy.
For years, advisorshave recommended that investors take a "buy and hold" approach tothe market, but people over fifty can't afford to rely on thisstrategy.
Buy, Hold, & SELL! uncovers the myth of the"buy and hold" investment philosophy, and explains why it'sdangerously incomplete.
Written by Ken Moraif, one ofBarron's top 100 Financial Advisors in the United Statesthree years a row and who called the 2008 market crash in Novemberof 2007, this book outlines an alternative strategy that betterserves investors who are at retirement age.
Written ineasy-to-understand language and buoyed by Ken's trademark humor, this guide shoots down the myths that keep investors in riskymarkets, and arms readers with the knowledge, motivation, andstrategies that may help them survive-and even thrive-during theinevitable next bear market. Too many retirees lost a large percentage of their investmentsduring the market collapse of 2008 and spent years trying to regaintheir footing.
During the collapse, many advisors told theirclients to stay in the market.
Ken did the opposite, advising hisclients and listeners of his popular radio show "MoneyMatters" to get out of the market in November of 2007-beforethe economic meltdown.
With this book, Ken shares his 26 years ofexperience to help investors prepare for the imminent bear marketthat could devastate their retirement plans. For those looking to build a sound financial plan for the longrun, this book provides expert insight and solid advice withsupporting charts, graphs, statistics, and anecdotes. Understand the buy-hold-SELL strategyLearn how to design a sell strategy to protect principal in thenext bear marketFind clear-cut information regarding retirement financesDiscover the benefits of a diversified portfolio This bookexpands upon old advice to provide the most important part of theequation: a sell strategy designed to protect principal. The goal of Buy, Hold, & SELL! is not to makeinvestors rich quick, but to help keep them from becoming poor.
Information
Format: Hardback
Pages: 224 pages
Publisher: John Wiley & Sons Inc
Publication Date: 23/01/2015
Category: Investment & securities
ISBN: 9781118951491
Other Formats
EPUB from £15.83
PDF from £15.83
Free Home Delivery
on all orders
Pick up orders
from local bookshops