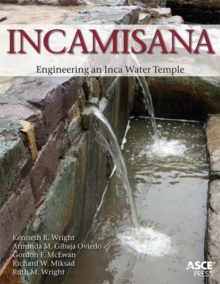 Incamisana : Engineering an Inca Water Temple
Paperback / softback
Description
Water and water worship were integral to the spiritual life of the Inca.
The Incamisana, an ancient water temple that is part of the royal estate at Ollantaytambo, is a hydraulic masterpiece that serves as historical evidence of the importance of water to the Inca.Preserved under a massive amount of alluvial soil following the 1679 flood, the Incamisana was rediscovered in 1980, revealing a complex water system.
The water system of open channels, buried conduits, hydraulic drop structures, eight fountains, and orifices was a well-designed and balanced flow system based on the same engineering principles employed in modern waterworks.
Created several centuries before Bernoulli formulated the relationship between flow, energy, and elevation, the Inca were able to control the flow of water with a degree of sophistication that rivals modern engineers. In Incamisana: Engineering an Inca Water Temple, Ken Wright and his team analyze and explain the masterful design of the temple, which incorporates hydraulic works into an aesthetically pleasing ceremonial complex.
Additional studies at the nearby Lip Fountain and Bath of the Princess Fountain further illustrate the engineering skills of the Inca. Set against a backdrop of impressive and mysterious cliff face rock carvings, the Incamisana is also part of a larger water supply system for the region.
Wright's team investigates the mountainside hydrology, geology, and paleohydrology supporting the fountains and the surrounding agricultural terraces necessary to support the Inca community. Extensively illustrated with photos and drawings, this book provides engineers, archaeologists, tourists, and armchair travelers with an appreciation of the civil engineering skills of the Inca people.
Information
Format: Paperback / softback
Pages: 158 pages
Publisher: American Society of Civil Engineers
Publication Date: 30/01/2015
Category: History of engineering & technology
ISBN: 9780784414163
Free Home Delivery
on all orders
Pick up orders
from local bookshops