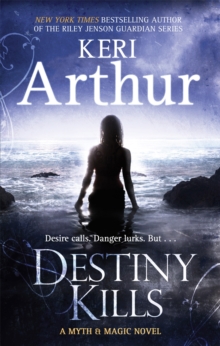 Destiny Kills : Number 1 in series
Paperback
Description
When Destiny McCree wakes up beside a dead man on an Oregon beach, she knows only this: she has to keep moving, keep searching and keep one step ahead of the forces that have been pursuing her from the heart of Scotland to this isolated spot.
Why? The death of her lover has left her alone, with little memory of her past.
A glimmering serpent-shaped ring is the one clue she has - and a bargaining chip in a most dangerous game.Enter Trae Wilson, a master thief with a sexy, knowing grin and a secret agenda of his own.
Destiny and Trae both have powers far beyond human - and both are running for their lives.
Together they're riding a tide of danger, magic and lust . . . but with killers stalking their every move, they must use any means necessary, even each other, to survive - until the shocking secret of one woman's destiny finally unravels.
Information
Format: Paperback
Pages: 384 pages
Publisher: Little, Brown Book Group
Publication Date: 01/05/2011
Category: Fantasy
ISBN: 9780749953027
Free Home Delivery
on all orders
Pick up orders
from local bookshops
Reviews
Showing 1 - 2 of 2 reviews.
Review by wyvernfriend
16/06/2015
The UK Cover isn't quite as pretty as the US one. This really did sound like it should have been me, dragons, in the real world? I'm there. Shapeshifting Dragons? Hell yeah, you've got me interested. However, the relationship in this story just didn't quite work. I suppose, having just read a Nora Roberts book I was expecting a more rounded relationship, a exploration of growing relationships and some evidence of past trauma making characters have to deal with issues, instead of just mentioning them, alas no, and if there was it didn't register well enough with me.Destiny McCree wakes up beside a dead man on a beach in Oregon. There are chunks of her memory missing. Trae Wilson enters her life and they find themselves both running for their lives. They both have powers, both shape-shifting dragons. She's being chased by people who want her, who have her mother and she wants to rescue her and the others held captive.I really did want to like this book but overall found it a bit ho-hum.
Review by Cynical_Ames
16/06/2015
Okay, so I've read 7 books by Keri Arthur and I can't take it any more.
This is one of her more recent books so I mistakenly thought the problems I experienced with the Damask Circle trilogy, published 10 years ago, wouldn't be repeated here.
Destiny Kills
had a premise with great promise and the power to be unforgettable but it was ruined by a number of re-occuring factors concerning Arthur's books and writing style.
First off, sex.
Nothing can get in the way of sex and the I-love-yous
. Not even romance. There's a lot of love-at-first-sight fated-to-be-mated because her, sometimes wooden characters, are incapable of falling in love gradually. Now, if Arthur was a writer of erotica this probably wouldn't be a problem. But paranormal romance tends to require some sort of storyline, a reason for the hero and heroine to meet each other and for a little time to pass together before they start bumping uglies. I prefer there to be a balance between plot and sex. And plot almost always comes last with this author.
The beginnings of Arthur's books are mostly very weak and
Destiny Kills
was no exception. Our heroine is on an unknown beach with a dead body with no memory of how he died, her name or what she's doing there. Only she knows his name and his relationship to her. She knows they're both non-human and how to traditionally dispose of his body with the proper ceremony. I'm no expert on amnesia but I have witnessed it first hand, and I find it unlikely that she would remember
all
of that so quickly.
I wondered why exactly the author decided to start the book at that exact point:
Timeline
Destiny's a child when her mother is kidnapped. Destiny and her dad run away to the US.

Aged 18, attempting a rescue, Destiny is kidnapped.

10 years of confinement: includes experimentation (read: torture), forced coupling with Egan (i.e. rape), protecting the dragon children who're also confined.

Escapes aged 28, with Egan, leaving the children behind after her mother feels Destiny's father dying.

On the run, caught and Egan's killed.

[The book starts.]
Beginning the book a little earlier while Destiny is still imprisoned would've provided better background and a sense of urgency for her escape.
Obviously Arthur wasn't scared of harsh reality and if we'd witnessed Destiny's living conditions and how she was treated before escape I could've felt sympathy, encouraging me to be invested in her mission. We also could've met Egan who was apparently a big part of her life, before he died. The flashbacks weren't enough. They're too brief, often confusing with little context to fully understand what happened and the effect on Destiny's behaviour.
Which leads me to another thing,
Destiny, although not unaffected by her experience as a lab rat, she's remarkably and suspiciously functional
. I'd expect panic attacks, crying, not wanting to be touched, crippling anger –some sort of post-traumatic stress. She experiences one moment of it: when she'd had to shoot someone in the head during her escape. That's it. She seems more concerned about dishonouring Egan by moving on too quickly with his half-brother, Trae.
Where are all the people?
We live on a planet of 7 billion people and yet most of Arthur's books (excluding Riley Jensen) contain two characters, and if you're lucky 3 others with a sentence of dialogue each. There are no side characters, no sidekicks. There's only one POV: Destiny's. The scope is too narrow. They're not the only two people in the world. Neither have friends or family. They receive no calls to check-in after going AWOL. Destiny has an excuse but then the kids, I would think, would be her family but we don't hear much from them. Trae is an outcast who hates his father but what about friends, his mother? Not everyone is a lone wolf. Contact with other characters can be a means of showing what our heroes and heroines are really like, can provide a little light entertainment to an otherwise challenging or bleak situation, or a reason to hate the villains. Evil scientists were the villains but we didn't get to
see
them being evil. We were
told
.
The epilogue is a rushed summary of events
. Events therein could've been expanded so we might properly understand the effects of being confined on Destiny and the children during the search for their parents. We could've met Trae's mother and seen her reaction to Destiny, figured out what kind of relationship she had with her son and how she felt about Trae's father. Emotional relationships are very important and yet they are ignored.
I was incredibly frustrated by the lack of depth to the plot and to the characters. So much more could've been done to make this book special. Disappointing.
My history with Keri Arthur:
2 Damask Circle trilogy books(pub. 2001-2) [PNR]*
2 Ripple Creek Werewolf duology books (pub. 2003-4) [PNR]**
2 Riley Jensen books (pub. 2006-7) [UF]
1 Myth & Magic book (pub. 2008) [PNR]
*I own the last in the trilogy, which I may or may not read.
**The best of the bunch.
Also in the Myth and Magic series