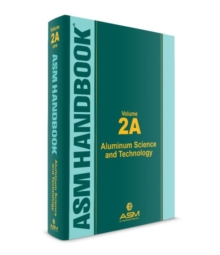 ASM Handbook, Volume 2A : Aluminum Science and Technology
Hardback
Description
ASM Handbook, Volume 2A is intended for users of aluminum alloys seeking information on the processes, capabilities, and variables in producing and fabricating aluminum products.
Beginning with the classification and underlying physical metallurgy of aluminum alloys, this new handbook is a significant update and expansion of coverage on the technologies of aluminum casting, metalworking, composite processing, heat treating, surface treatment and joining.
Updates address ongoing advances in high-integrity die castings, expanded coverage on surface treatment technologies, and contributions from experts in a wide variety of technological areas.
New articles address aluminum recycling, melt processing, solidification and castability of aluminum alloys, extrusion, forging design, aluminum foams, semisolid casting, powder and additive technologies, quenching, laser machining, anodizing, organic coating, conversion coating, and laser welding.
Significant updates are included on brazing, extrusion, anodizing, welding, and shape casting. Volume 2A provides a detailed and broad-based reference that can give readers insights and solutions on the factors that influence process selection, product quality, performance, and serviceability of aluminum products.
Information
Format: Hardback
Pages: 790 pages
Publisher: A S M International
Publication Date: 30/11/2018
Category: Metals technology / metallurgy
ISBN: 9781627081580