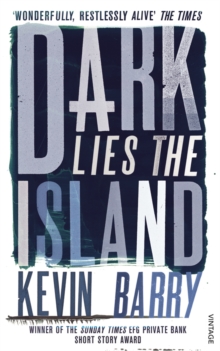 Dark Lies the Island
Paperback
Description
Winner of the Sunday Times short story prize Winner of the Edge Hill short story prizeA kiss that just won't happen.
A disco at the end of the world. A teenage goth on a terror mission. And OAP kiddie-snatchers, and scouse real-ale enthusiasts, and occult weirdness in the backwoods... Dark Lies the Island is a collection of unpredictable stories about love and cruelty, crimes, desperation, and hope from the man Irvine Welsh has described as 'the most arresting and original writer to emerge from these islands in years'.
Every page is shot through with the riotous humour, sympathy and blistering language that mark Kevin Barry as a pure entertainer and a unique teller of tales.
Information
Format: Paperback
Pages: 192 pages
Publisher: Vintage Publishing
Publication Date: 04/04/2013
ISBN: 9780099575078
Other Formats
Paperback from £9.45
EPUB from £3.99
Free Home Delivery
on all orders
Pick up orders
from local bookshops
Reviews
Showing 1 - 1 of 1 reviews.
Review by mhanlon
16/06/2015
First, the good stuff, because Kevin Barry is full of good stuff. He's at his best when his stories veer that little bit off the road into the bizarre and the slightly unexpected. He's able to capture off-the-wall, perhaps manic voices with believability and aplomb. Which is what he does so well in "Fjord of Killary," "Wifey Redux," "Beer Trip of Llandudno," and "Doctor Sot.""Fjords of Killary" is a brilliant story, but you probably knew that because it's been in the New Yorker and thrown around willy nilly amongst good company."Wifey Redux" is a great story in a great voice -- a man has a happy marriage, he tells you, and he has a lovely teenage daughter, and she, in turn, has a… boyfriend. And it all goes downhill from there."Beer Trip to Llandudno" is a fun story about a traveling beer group who all have some interesting issues and head out to Wales for a bit of serious drinking. It's an interesting, short sketch of some diverse characters."Doctor Sot" tells the story of a doctor who's taken to the booze pretty seriously and whose practice has been leaking patients while his wife sits at home, happily absent from his crumbling world. A beautiful traveler in town gives him renewed purpose, though, and off he goes on an outreach.Most of the others, for me, are missing Barry's unique voice, or, in one case, his voice seems to fall a bit flat. "Ernestine and Kit'" is the kind of wacky premise that you think Barry would knock out of the park -- two older ladies run around kidnapping children. But there seems to be a lot of passive voice in the story, which is what makes it lie flat for me. "Across the Rooftops" is a boring, perhaps intentionally so, tale of a failed first coupling. It's more of a fine(isn) scene than a fully realized short story. "Wistful England" is in the same vein, but is a better story. The narrator seems more like the adolescent (mentally, anyway, which we men can hold on to for far longer than a purely biological definition of adolescence) in "Across the Rooftops," but more developed. Less of a passive observer of a scene that he should be engaged in.There are the rough and ready collection: "The Girls and the Dogs" and "White Hitachi" and possibly "The Mainland Campaign," too, where the narrators are kids on the fringe of society. They were fine stories, "The Mainland Campaign" the weakest of the lot, because the characters felt the most wooden, written from caricatures rather than given a bit of life, but they didn't sparkle in the way Barry is capable of writing. "Berlin Arkonaplatz - My Lesbian Summer" is a similar story, in terms of narrator and fringes, but it feels like an adolescent story, like Rooftops and Wisftul.The title story is okay, as well. The writing is fine, it's just that the tension never really built for me, and I found myself looking for the next story, flicking ahead past a lot of internal strain and strife. "A Cruelty" feels similar to "Dark Lies the Island" because I got the sense that I'd read the story before. It's a tale of a kid with an OCD/autistic-like mien who goes on a trip with studied regularity in all aspects. Well, one day there's an obstacle to his happy routine. The End.I think I was particularly rough in judgement on this collection because Kevin Barry's first collection, "There are Little Kingdoms" is an amazing collection and his novel "City of Bohane" just blew me away. One of my favorite all-time novels. Overall it's not a bad read, but I did find myself wishing for the next story to start on a number of occasions.