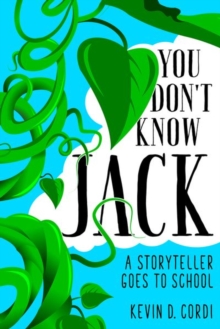 You Don't Know Jack : A Storyteller Goes to School
Paperback / softback
Description
Jack and the Beanstalk, Little Jack Horner and Jack the Giant Killer are all famous tales and rhymes featuring the same hero, a character who often appears in legends, fairy tales, and nursery rhymes.
Unlike moralizing fairy tale heroes, however, Jack is typically depicted as foolish or lazy, though he often emerges triumphant through cleverness and tricks. With their roots traced back to England, Jack tales are an important oral tradition in Appalachian folklore.
It was in his Appalachian upbringing that Kevin D. Cordi was first introduced to Jack through oral storytelling traditions.
Cordi's love of storytelling eventually led him down a career path as a professional storyteller, touring the US for the past twenty-seven years. In addition to his work as a storyteller, Cordi worked a second job in an unrelated field-a high school teacher-and for many years, he kept his two lives separate.
Everything changed when Cordi began telling stories in the classroom and realized he was connecting with his students in ways he had not previously.
Cordi concluded that storytelling, storymaking, and drama can be used as systems of learning instead of as just entertainment. In You Don't Know Jack: A Storyteller Goes to School, Cordi describes the process of integrating storytelling into his classroom.
Using autoethnographic writing, he reflects upon the use of storytelling and storymaking in order to promote inquiry and learning.
He argues that engaging with the stories of others, discovering that one voice or identity should not be valued over the other, and listening, especially listening to stories of difference, are of utmost importance to education and growth.
Information
Format: Paperback / softback
Pages: 256 pages
Publisher: University Press of Mississippi
Publication Date: 30/12/2018
Category: Film, TV & radio
ISBN: 9781496821256
Also by Kevin D. Cordi