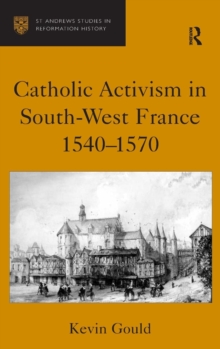 Catholic Activism in South-West France, 1540-1570
Hardback
Description
Examining Catholic activism in the south-west of France during the middle decades of the sixteenth century, this book argues - contrary to prevailing views - that the phenomenon was both widespread and militant even before the formation of the Catholic League in 1576.
Whilst recent research has provided a far greater understanding of the Huguenot struggle for security and legitimacy, there has not been a correspondingly thorough investigation into the grass-roots Catholic reaction to this, and by dismissing episodes of pre-League Catholic militancy as limited and ephemeral, a distorted picture of French confessional conflict and rivalry is painted. Utilizing surviving material from the provincial archives at Bordeaux, Toulouse, Agen, and at the Bibliotheque Nationale in Paris, this book provides ample evidence for placing the birth of Catholic activism in the period preceding the Wars of Religion, highlighting the confessional tensions that exploded throughout the 1540s and 1550s.
As competing bands of religious enthusiasts, and municipal and court officials, fought first with words, then with weapons, for supremacy of the community in the towns of the south-west, a steady escalation of confrontation can be traced.
Within this atmosphere of rising tension, it is shown how Catholic militancy mirrored the organizational and fund-raising capacity of their Protestant rivals, and how the local military elite rose to support their co-religionists at the outbreak of formal hostilities in 1562.
The ascendancy of Catholic militants in key urban centres by 1570 would deal a fatal blow to Protestant plans for supremacy of the south-west.
Information
Format: Hardback
Pages: 204 pages
Publisher: Taylor & Francis Ltd
Publication Date: 28/03/2006
Category: Church history
ISBN: 9780754652267
Other Formats
EPUB from £40.49
PDF from £40.49
Also by Kevin Gould