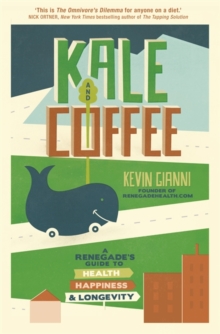 Kale and Coffee : A Renegade's Guide to Health, Happiness, and Longevity
Paperback / softback
Description
After realizing that he may have a hereditary cancer risk, Kevin Gianni was intent on finding the keys to perfect wellness.
So he and his wife spent two and a half years crisscrossing North America in a 36-foot, bio-fuelled RV, dubbed 'the Kale Whale', talking to experts and ordinary people about what works and what doesn't when it comes to a healthy life.
They drank wheatgrass shots, gave up sugar, said goodbye to coffee and tried every nutrition plan said to guarantee good health.
But as Kevin experimented with all kinds of 'healthy' diets - vegetarian, vegan, raw foods and more - he got sicker and sicker.
Finally, he hit rock bottom and had to give up healthy eating to save his life. Kale and Coffee is the often hilarious, picaresque tale of how Kevin went from skinny, raw-food vegan faddist to bloated, out of shape omnivore before finding the middle way to an imperfectly healthy and (more) balanced life.
The journey takes him from the Peruvian Andes to salt flats in Mexico to a pig farm and a butcher's shop near his northern California home.
Along the way, he has his brain scanned and his pantry tested for toxic metals, does an all-water fast, runs the gruelling Tough Mudder endurance race and obsesses on the secrets of the world's longest-lived people. With the humour and practical wisdom that have delighted millions, Kevin shows you how to sidestep the health hype, diet fads and weight-loss promises littering the path to wellness.
Drawing on his own experience and the advice of trusted experts, he guides you in finding your own personal plan for optimal nutrition and fitness.
Information
Format: Paperback / softback
Pages: 248 pages
Publisher: Hay House UK Ltd
Publication Date: 21/07/2015
Category: Popular medicine & health
ISBN: 9781781805084