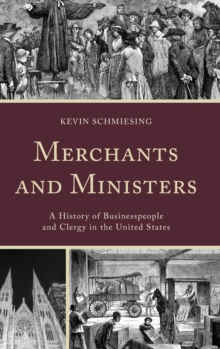 Merchants and Ministers : A History of Businesspeople and Clergy in the United States
Hardback
Description
Two of the most influential forces in American history are business and religion.
Merchants and Ministers weaves the two together in a history of the relationship between businesspeople and Christian clergy.
From fur traders and missionaries who explored the interior of the continent to Gilded-Age corporate titans and their clerical confidants to black businessmen and their ministerial collaborators in the Civil Rights movement, Merchants and Ministers tells stories of interactions between businesspeople and clergy from the colonial period to the present.
It presents a complex picture of this relationship, highlighting both conflict and cooperation between the two groups.
By placing anecdotal detail in the context of general developments in commerce and Christianity, Merchants and Ministers traces the contours of American history and illuminates those contours with the personal stories of businesspeople and clergy.
Information
Format: Hardback
Pages: 260 pages
Publisher: Lexington Books
Publication Date: 14/12/2016
Category: History of religion
ISBN: 9781498539241
Also by Kevin Schmiesing