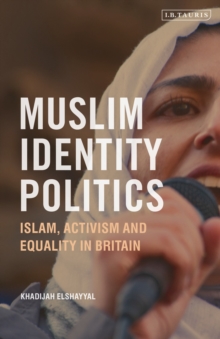 Muslim Identity Politics : Islam, Activism and Equality in Britain
Paperback / softback
Description
The surge in divisive and far-right politics and growing Islamophobia in Britain pose new challenges for Muslim advocacy organisations.
British Muslim activism has taken centre stage in the public sphere as a result.
Yet for over fifty years Muslim advocacy groups have worked to preserve religious identity, lobby the state and provide concerted responses to the political establishment. This is the first book to chart critically the national and global factors influencing the political mobilisation of British Muslim activists as Muslims. Khadijah Elshayyal traces the changes of thought, direction and method within Muslim identity politics after 1960, noting key organisations and turning points such as the Rushdie Affair, the 9/11 attacks, the 7/7 bombings and the current conflict in Syria. The book argues that the Rushdie Affair prompted new debate around the subject of freedom of expression, which has continued to be a point of contention ever since.
Providing a history of the interaction between Muslim advocacy groups and the state, and the impact of state policy on Muslim communities, Muslims Identity Politics shows that Muslim citizens continue to experience an `equality gap' and recommends where transformation and progress can be made.
Based on primary sources and in-depth interviews, this book is a vital resource for government officials, policy-makers and researchers interested in multiculturalism, Islamophobia and security issues in Britain.
Also by Khadijah Elshayyal