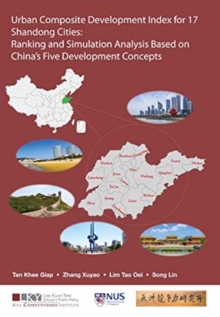 Urban Composite Development Index For 17 Shandong Cities: Ranking And Simulation Analysis Based On China's Five Development Concepts
Hardback
Description
Shandong is a thriving economic centre with a Gross Regional Domestic Product of RMB 6.3 trillion in 2015, the third-highest in China.
It is also the third-largest province by land area in the country with the second-largest resident population of 98,470,000.
With such impressive characteristics, Shandong's urbanisation rate had quickly expanded from 45 percent in 2005 to 57 percent in 2017.
As such, in line with the growing affluence of the province, the people's ever-growing demand for urban development in areas such as infrastructure, public services, education and environmental protection has exceeded the provision of such facilities.In view of these developments, the Asia Competitiveness Institute (ACI) at the Lee Kuan Yew School of Public Policy (LKYSPP), National University of Singapore (NUS) developed Shandong's first city-level index which assesses the levels of urban development and liveability for each city.
The ranking and simulation analysis via the Urban Composite Development Index for 17 Shandong cities was constructed to provide an empirically robust framework to better understand the quality of urban development of Shandong cities in a comprehensive and rigorous manner, while at the same time highlight important policy implications for further growth and development.
Further, this publication incorporates key elements which ensures that the construction of the index is unique, empirically sound and relevant to Shandong's development in the context of China.Overall, the analysis provided in this book relates to the broad dimensions of urban development of Shandong cities and can stand up to academic scrutiny as it is based on rigorous methodological foundations.
In addition, the study will remain accessible and appealing to policymakers as it offers tailored policy recommendations based on the analysis that will enable them to take appropriate policy interventions in each city to improve their overall performance in urban development.
This research will help to identify the strengths and weaknesses of each city and empower policymakers to formulate more effective development strategies.
Information
Format: Hardback
Pages: 460 pages
Publisher: World Scientific Publishing Co Pte Ltd
Publication Date: 13/02/2019
Category: Development studies
ISBN: 9789813272330