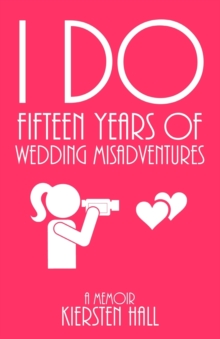 "I Do" ~ 15 Years of Wedding Misadventures
EA
Description
"This book is a MUST READ for anyone who is planning on getting married or has already taken the trip down the aisle!"15 years of memories from 1,400+ weddings as a professional videographer.
There are plenty of entertaining stories to share with the readers!Chapter titles include:* Where's Grandma? * Can I Get Your Autograph? * Who Brought the Gun? * Calisthenics in Formal Wear"This book is a page-turner!
Once you pick it up, you won't be able to put it down until you're done!"Complete Bridal Planning Checklist Included"After reading this book, I'm thrilled that my wedding was so 'average'.""Absolutely hilarious!
This is the strategic, guerrilla handbook to planning a successful wedding."Amazon Customer Review:'I would have never thought that a wedding videographer would deal with so many different situations!
While reading this book I encountered some interesting information, some winces and cringes, some genuine laughs out loud - but I can honestly say that all of it was entertaining!
In addition, Kiersten's casual, witty, and amusing writing style made me feel like I was sitting in her living room as she shared these scenarios and anecdotes with a group of friends - Thanks for sharing!'Amazon Customer Review:'It's just an awesome page-turner.
If you're getting married, you definitely need to buy it.
If you're not getting married/already have gotten married and you're looking for some good laughs, it's totally worth it.
Kiersten's style of writing is also just really refreshing and makes funny stories even funnier - crisp, satirical prose elegantly put together.
She takes years of great stories and boils them down to the best ones for the reader to enjoy.'
Information
Format: EA
Pages: 196 pages
Publisher: Distributed via Smashwords
Publication Date: 05/10/2016
ISBN: 9780692791875
Free Home Delivery
on all orders
Pick up orders
from local bookshops