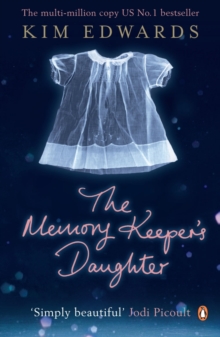 The Memory Keeper's Daughter
Paperback
Description
The multi-million copy bestseller, Kim Edwards' The Memory Keeper's Daughter is a moving and poignant novel about grief, family and betrayal. Families have secrets they hide even from themselves...It should have been an ordinary birth, the start of an ordinary happy family.
But the night Dr David Henry delivers his wife's twins is a night that will haunt five lives for ever. For though David's son is a healthy boy, his daughter has Down's syndrome. And, in a shocking act of betrayal whose consequences only time will reveal, he tells his wife their daughter died while secretly entrusting her care to a nurse. As grief quietly tears apart David's family, so a little girl must make her own way in the world as best she can. 'Crafted with language so lovely you have to reread the passages just to be captivated all over again ...this is simply a beautiful book' Jodi Picoult 'I loved this riveting story with its intricate characters and beautiful language' Sue Monk Kidd, author of the best-selling, The Secret Life of Bees Kim Edwards is the author of the short-story collection The Secrets of the Fire King, which was an alternate for the 1998 PEN/Hemingway Award, and has won the Whiting Award and the Nelson Algren Award. Her second novel, The Lake of Dreams, is available from Penguin.
She is an assistant professor of English at the University of Kentucky.
Information
Format: Paperback
Pages: 432 pages
Publisher: Penguin Books Ltd
Publication Date: 07/04/2007
ISBN: 9780141030142
Free Home Delivery
on all orders
Pick up orders
from local bookshops
Reviews
Showing 1 - 5 of 16 reviews.
Previous | Next
Review by ablueidol
16/06/2015
The story starts in the sixties with the birth of twins one of which has downs syndrome. The story sets up the motives why the father gives the child away(loss of his own sister and wanted to spare his wife the pain, why he gives it to the nurse(knows she loves him), why the nurse accepts the child and refuses to put her in a home(loves him, and the baby and what this means to her) This sets up the train of events that affect the both families for the next 30 years as the lies and evasions create distance and emotional loss. WE also see the families affected by the social changes and the growth in disability rights.Well fought not to read it because it going to be some variation of chicklit BUT was hooked in and turned the pages gripped by the unfolding tragedy of the one innocent mistake. The writing was clever in the way it evoked the physical environment and time of the period as well as switching point of view from each of the main characters as the story moves to its climax. A key thing that makes the story works is that we understand why the main characters make the decisions they do. It also gives you a pain free overview of the changes in attitudes to learning difficulties from the mid 60's and now. Highly recommended.
Review by michelle_bcf
16/06/2015
This is one of those books that I picked up on a whim.. and I'm glad I did. The initial story is handled well, and the events are believeable. These early actions then go on to affect so many people as they go through their lives. The book takes you on the various journey's, as they all intertwine.I enjoyed reading it, and it has stayed with me. There aren't many books I would consider reading again, but this one has just been added to that pile.PS I'm actually surprised by the amount of negative reviews on here. I guess some books affect us in different ways.. I, for one, did enjoy it. :)
Review by Elphaba71
16/06/2015
This book has had mixed reviews on all websites I've read about it. I thought it had a good storyline, but there were several times I could quite happily have put it down & not picked it up again. Then there were times I thought, I can't put this down. It rambled on in places sometimes unnecessarily to get to the point.
Review by cotto
16/06/2015
The premise of this book was interesting to me but I can't say that the author held my attention very well. I think you can easily tell that I didn't enjoy a particular book when there is too much time lag between postings. That means that the book is boring me and I don't need to read it obsessively. The Memory Keeper is a father who takes photos as a hobby, hence 'memory keeper'. He sends his daughter away right after child birth because she was born with Down's syndrome (not a spoiler, you find this out in the first few pages). This is rural Kentucky in the 1960's and I suppose this is probably not unusual as there is an institution that takes in these unwanted children who are challenged. He finds it very difficult to live with the secret and neither his wife nor surviving son (fraternal twin to the daughter) recover from the 'death'. It is interesting to see how a secret can shape people's lives and the possibilities of a different life if there was honesty in the first place. Also, would you ever reveal that you've lied about something this huge after keeping it a secret for half a lifetime? Not a page turner for me, though. Too Lifetime original movie I think.
Review by Eruntane
16/06/2015
Kim Edwards writes with the delicate touch of a watercolour painter. Every brushstroke brings you a different colour, texture, sound, smell or taste. For this reason, the book can be a challenging read at times, because there's so much detail to take in. But I think it's also what makes the book stand out from other good stories about the same things: love, betrayal, prejudice, distance and secrecy. The narrative can be a bit slow at times, but the jumps in time between chapters keep you reading, keen to find out what the characters have become several years down the line.