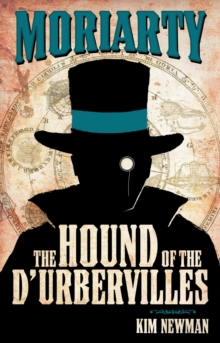 Professor Moriarty : The Hound of the D'Urbervilles
Paperback
Description
Imagine the twisted evil twins of Holmes and Watson and you have the dangerous duo of Prof.
James Moriarty - wily, snake-like, fiercely intelligent, unpredictable - and Colonel Sebastian 'Basher' Moran - violent, politically incorrect, debauched.
Together they run London crime, owning police and criminals alike.
Unravelling mysteries - all for their own gain.
Information
Format: Paperback
Pages: 224 pages
Publisher: Titan Books Ltd
Publication Date: 23/09/2011
Category: Crime & mystery
ISBN: 9780857682833
Free Home Delivery
on all orders
Pick up orders
from local bookshops
Reviews
Showing 1 - 5 of 7 reviews.
Previous | Next
Review by Philotera
16/06/2015
If you love Holmes, you really must get Newman's latest. Colonel "Tiger" Moran, aka "Basher" Moran to the ladies, tells his side of the Moriarty story. As always, Newman is extremely erudite (the footnotes alone are worth the price of the book) and, compared to Professor Moriarty' evil ways, Moran is patriot and a saint. Hound of the D'urbervilles bears more than a passing relationship to the Flashman novels (in at least one of which, Flashman and the Tiger, Moran makes an appearance). So be warned, this is no PC novel. Moran is inappropriate, vile, and a through and through bounder. But oh, Moriarty is so much worse! The ladies get their fair share of exposure, in every way. You'll have the pleasure of meeting an Irene Adler who truly is "The Woman," or "That Bitch" as Moriarty calls her. Someone who can more than hold her own among both the crowned heads of Europe and the warlords of London, as well as some other famous notorious characters.Discovering who they are is half the fun of the read, so I'll leave you to it. It's a wonderful jaunt through a black-hearted version of Conan Doyle's London that shouldn't be missed.
Review by psutto
16/06/2015
Literary mash up of Sherlock Holmes and a lot of 19th Century booksNewman stands the Conan Doyle Sherlock Holmes canon on its head and has Sebastian "Basher" Moran narrate (in the Dr. Watson role) the adventures of Professor James Moriarty in a found manuscript. Its an episodic book with a number of adventures each a take on one of Holmes's e.g. A Volume in Vermillion, The Hound of the D'Urbevilles etc. Along the way Newman ropes in Wilkie Collins, Bram Stoker, H.G. Wells and a whole host of familiar 19th century characters such as Carnacki and Raffles and plots such as [the moonstone] and [war of the worlds]. Its all great fun especially the Red Planet League story and the mother of all cursed gem stories. Basher Moran is a Flashman-esque narrator who brings the stories to life with a sly humour. The episodic nature lets it down a bit and a couple of the stories rely too much on the Holmes version especially the last story – "The problem of the final adventure". If you're a fan of 19th century fiction you'll get a lot more from this book but it does work as a standalone.Overall – Great fun tongue firmly in cheek Victorian adventure yarns
Review by ClicksClan
16/06/2015
Very well done - like how it linked to other classic stories set at the same time.I liked the endnotes which made it seem like it was talking about real people.Moran is not a nice person at all, but kind of funny.Liked the first three stories best; A Volume in Vermilion, A Shambles in Belgravia, and The Red Planet League.
Review by rivkat
16/06/2015
Newman was doing the pastiche/reboot before Pride and Prejudice and Zombies, etc., and he's good at it. Basher Moran, a racist, sexist thug, is Moriarty's right-hand man, and this is his account of some of their more interesting adventures. I liked the War of the Worlds parody best, but I suspect many Sherlock Holmes fans would enjoy the reversals of Watson's recorded adventures, which of course include references to other unreported cases and internal inconsistencies in the same was that the original Holmes stories do.
Review by Hubster
16/06/2015
Great fun. More than enough twists on a familiar theme to keep me interested.