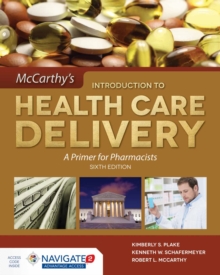 Mccarthy's Introduction To Health Care Delivery: A Primer For Pharmacists
Hardback
Description
Each new print copy includes Navigate 2 Advantage Access that unlocks a comprehensive and interactive eBook, student practice activities and assessments, a full suite of instructor resources, and learning analytics reporting tools. McCarthy's Introduction to Health Care Delivery: A Primer for Pharmacists, Sixth Edition provides students with a current and comprehensive overview of the U.S. health care delivery system, including social, organizational, and economic aspects, from the perspective of the pharmacy profession.
Each thoroughly updated chapter of this best-selling text includes real-world case studies, learning objectives, chapter review questions, questions for further discussion, and updated key topics and terms.
NEW TO THE SIXTH EDITIONUpdated an Enhanced content relating to:Expanded section regarding pharmacist rolesPost-graduate education/resourcesCredentialing/resourcesAffordable Care ActMedicare and MedicaidContrasting views of health policyGovernment's perspective on role of pharmacists (provider status)Examples of state health insurance programsChallenges of the VA systemE-commerce, internet pharmacy, and other technologiesInterdisciplinary models of careScope of practice and related legislationSources of patient informationHealth and illness behaviorCulture, health literacy, health behavior change and motivational interviewingRole of quality improvement in patient safetyDrug safetyPharmaceutical industry and drug developmentElectronic prescribing and electronic health recordsPatient Safety and Clinical Pharmacy Services Collaborative (PSPC)Pharmacy benefit managersBasic policy issues affecting health careConnections between medication use systems and health care delivery modelsDemographics, including compression of morbidityBasic epidemiology, including discussions of incidence, prevalence, risk, etc. Distribution process, e.g., wholesalersCounterfeits and efforts to prevent occurrenceInternet pharmacyDTC advertisingE-CommerceHealth care disparitiesExamples of pharmacist roles in public health (immunizations, bioterrorism, community health clinics, etc.)Continuous quality improvementMeasures of qualityRoot cause analysisE-prescribingTechnologies to improve safety and efficienciesReimbursement Joint CommissionMultihospital systems, horizontal/vertical integrationFellowshipsAmbulatory care dataLTC statisticsNew funding for community health centersNew therapies used at homeEconomic principles affecting health careThe uninsuredPrescription drug plansDifference between private pay and MedicaidExpand discussion on HEDISSupply-side and demand-side controlsConsumer-driven healthcarePBMS, pharmacy reimbursementDetails on formulariesDURSpecialty pharmaciesCognitive reimbursement and MTMTransitions of CareFormulary review for expensive biotech drugsHealth technology assessmentPharmacoeconomic methodsQuality of life and health outcomes measurementHealth educationDeveloping countriesAccountable care organizations (ACOS)Patient-centered medical homes (PCMS)Consumer driven health careINSTRUCTOR RESOURCES: Instructor's Manual, Slides in PowerPoint format, Test BankWith Navigate 2, technology and content combine to expand the reach of your classroom.
Whether you teach an online, hybrid, or traditional classroom-based course, Navigate 2 delivers unbeatable value.
Experience Navigate 2 today at www.jblnavigate.com/2Some electronic and eBook versions do include access to Navigate 2 Advantage resources.
Navigate 2 Advantage Access may be purchased separately.
See Student Resources tab.
Information
Format: Hardback
Pages: 598 pages
Publisher: Jones and Bartlett Publishers, Inc
Publication Date: 19/08/2016
Category: Health systems & services
ISBN: 9781284094107
Free Home Delivery
on all orders
Pick up orders
from local bookshops