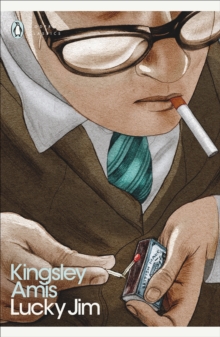 Description
Kingsley Amis's witty campus novel, Lucky Jim is a comedy that skewers the hypocrisies and vanities of 1950s academic life.
This Penguin Modern Classics edition contains an introduction by David Lodge.Jim Dixon has accidentally fallen into a job at one of Britain's new red brick universities.
A moderately successful future in the History Department beckons - as long as Jim can stave off the unwelcome advances of fellow lecturer Margaret, survive a madrigal-singing weekend at Professor Welch's, deliver a lecture on 'Merrie England' and resist Christine, the hopelessly desirable girlfriend of Welch's awful son Bertrand.
Inspired by Amis's friend, the poet Philip Larkin, Jim Dixon is a timeless comic character, adrift in a hopelessly gauche and pretentious world.Kingsley Amis (1922-1995), born in London, wrote poetry, criticism, and short stories, but is best remembered as the novelist whose works offered a comic deconstruction of post-war Britain.
Amis explored his disillusionment with British society in novels such as Lucky Jim (1954) and That Uncertain Feeling (1955); his other works include The Green Man (1970) Stanley and the Women (1984), and The Old Devils (1986) which won the Booker Prize.If you enjoyed Lucky Jim, you might like Amis's The King's English, also available in Penguin Modern Classics.'A flawless comic novel ...
I loved it then, as I do now. It has always made me laugh out loud'Helen Dunmore, The Times'A brilliantly and preposterously funny book'Guardian
Information
Format: Paperback
Pages: 272 pages
Publisher: Penguin Books Ltd
Publication Date: 25/05/2000
ISBN: 9780141182599
Other Formats
Paperback from £6.09
EPUB from £3.99
Free Home Delivery
on all orders
Pick up orders
from local bookshops
Reviews
Showing 1 - 5 of 7 reviews.
Previous | Next
Review by davidroche
16/06/2015
In all time top 10. The original and best of the books that ring bells about all that is bad (or best) about you. Funny, funny, funny.
Review by akfarrar
16/06/2015
I first read the thing back in the summer 1975 (I can be sure of the date because it was part of my University set reading – I was going 'up' to Leicester to study for a B.Sc. and some 'wit' had included this on the list of 'books to study before coming' as it was supposed to have sketches of people still teaching at the university in it – if it did, I never met them).I didn't find it very funny then, and I find it even less so now.It is in the genre of 'campus novels' – a particularly tacky genre – and is claimed to have been 'seminal' – for which I shall never forgive it.For those who don't know, campus novels are about College and University campuses; are written by people whose whole lives have been blighted by the college experience and consequently feel it incumbent upon themselves to inflict a similar blight on the rest of their and future generations; they usually attempt to be 'hilarious' – and fail.Campus Novels are loved by academics (a sort of S & M experience, I would suggest) and book critics (who tend to be failed academics - and consequently promote them as some sort of revenge taking experience). They pop up far too often on suggested reading lists and the like.'Lucky Jim' supposedly changed the whole post-war generation … with little evidence to support this, I am firmly 'in denial'.Jim Dixon is the sort of lout who, because he had nothing better to do and is too lazy to do anything anyway, enters the University lecturing profession dishonestly – claiming interest and expertise where he has none. The book follows this thug's adventures through a 'red-brick' university where he causes drunken destruction and chaos wherever he goes. He exhibits the sort of socialist rhetoric you'd expect and lands a job at the end with a millionaire.What is clear to me (although not so clear to many at the time of publication, or since) is that Mr Amis does not like Jim – he is an 'oink' of the wrong class and only becomes respectable at the end as he moves into the pale blue conservative world. His luck is in escaping the not-really-university 'red-brick' institution, whose academic standards and personnel are only a joke.The so called humour is in fact barely disguised contempt for the genuine changes brought on by a World War that shattered the privilege of education and class (although not so effectively). Educating this sort of person is obviously a dumbing-down in the eyes of Mr Amis.The excellent introduction to the Penguin Edition, by David Lodge, also points out the attack being made on Graham Greene – especially on 'The Heart of the Matter'.There are obvious connections and references – from suicide to doing 'the right thing'.All I can say is I re-read, 'The Heart of the Matter' recently and was impressed: I re-read this slight book and found it severely wanting.Fortunately Mr Amis went on to write better things – unfortunately, his politics went even further in the wrong direction.
Review by SamuelW
16/06/2015
Perhaps I'm a stuffed-shirted bore, but I didn't find <i>Lucky Jim</i> anywhere near as funny as it was made out to be. Granted, it did make me smile sometimes, and laugh out loud occasionally. But it doesn't seem to have much else going for it. There's wit enough, but much of the comedy is physical rather than verbal, with strong elements of farce, and would probably work better on stage or screen than in print. The language is gratingly formal and often feels mechanical, even when viewed as a parody of academic writing.Kingsley's character portraits are perceptive, but somehow failed to grab me. At the heart of it all is Jim Dixon, a supposedly loveable slacker who expects luck to carry him through life. And – moral of the story – it does. Jim comes to the realisation that 'It was luck you needed all along; with just a little more luck he'd have been able to switch his life onto a momentarily adjoining track'. With more than a little luck, Jim gets the girl of his dreams, whose pleasant personality is a direct result of her fortunate good looks, and escapes from Margaret, whose histrionic personality is a direct result of her less-than-fortunate looks. Dumping Margaret is a perfectly acceptable course of action – it's nothing personal; she's just unlucky.To the average mid-twenties male who wishes that the women in his life would stop being so damned complicated and just sleep with him already, it may be a soothing balm. But for someone who stopped laughing along with Jim a hundred pages ago, it's plainly ridiculous and irritatingly shallow. The last thing Jim needs is more luck – what he really needs is to pull his bloody socks up, control his pathological face-pulling and stop looking for the quick-fix solution to every problem that comes his way. Oddly enough, the character with whom I most sympathise is just another obstacle in Dixon's path: Michie, the student who actually wants to get something out of his university education. Fortunately, my lecturers are much more capable than Dixon and Welch, who, to me, seem just as bad as each other.Perhaps I'm being a little harsh, and taking an overly serious approach to what should be a lighthearted campus romp. But when the laughs don't come thick and fast enough, the superficiality of this novel really stands out, and I can't help but feel as if I'm reading the 1950s equivalent of a National Lampoon film.
Review by alexrichman
16/06/2015
Unashamedly silliness (the main character pulls an Evelyn Waugh face, whatever that is), creative swearing ("you old cockchafer") and Woody Allen-style wish fulfilment (impossibly attractive woman falls for bumbling, broke loser) make this an incredibly enjoyable book. Pokes fun at characters without the meanness of the younger Amis, but remains every bit as vibrant. I didn't see what the fuss is about over the 'iconic' hangover, though.
Review by AdonisGuilfoyle
16/06/2015
Upon spying this perhaps most well known of Amis Pere's novels on the library shelf, I thought I would give both Kingsley and Jim a try - only to remember, belatedly, that <i>Girl, 20</i> was by the same chap, and I didn't take to that much either. Author amnesia strikes again.The only trouble is that I struggle to connect with Kingsley Amis' characters. His style treads the fine line between acerbic and absurd, which I like, and there are flashes of observational humour - albeit 50 years out of date - which I still find funny, but the author spends so long indulging his hero's 'eccentricties' that I was fed up with Jim before the story got started. Don't get me wrong, I did find some scenes amusing - grinning to myself, if not outright 'laugh out loud' comedy - but had to really force myself to finish a relatively short novel. I can understand why the film flopped.
Also in the Penguin Modern Classics series | View all