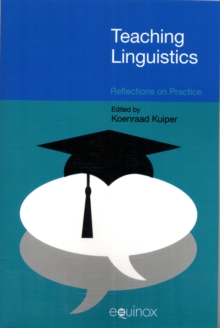 Teaching Linguistics : Reflections on Practice
Paperback / softback
Description
At some point in our past, human beings evolved the incredibly complex natural language systems which we all take for granted but without which we would not be able to communicate in the ways we do with each other, have civilizations, be able to contemplate the future and to change it. In the last hundred years we have begun to understand how these communication systems work.
We know much about how we make speech sounds, organise them into words, the words into sentences and how the words and sentences we produce mean what they do.
The subject within whose confines these discoveries have been made is linguistics.
The knowledge we now have is passed on by teachers of linguistics many of whom are gifted and committed.
Yet we know little about how they see their commitments to their subject.
This book is the first to give teachers of linguistics the chance to reflect on their professional practice as teachers and thus to share their enthusiasms, their strategies and their personal approaches to their subject.
Information
Format: Paperback / softback
Pages: 256 pages, 5 figures
Publisher: Equinox Publishing Ltd
Publication Date: 01/03/2011
Category: linguistics
ISBN: 9781845536879
Free Home Delivery
on all orders
Pick up orders
from local bookshops