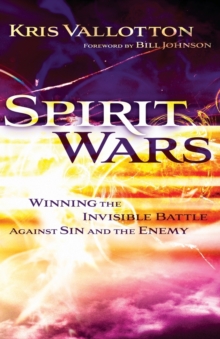 Spirit Wars : Winning the Invisible Battle Against Sin and the Enemy
Paperback
Information
Format: Paperback
Pages: 208 pages
Publisher: Baker Publishing Group
Publication Date: 01/01/2012
Category: Christian life & practice
ISBN: 9780800794934
Other Formats
EPUB from £5.24
Paperback from £6.89
Mixed media product from £41.25
Digital from £20.99
Free Home Delivery
on all orders
Pick up orders
from local bookshops
Reviews
Showing 1 - 5 of 5 reviews.
Review by davemac
16/06/2015
There are some good books available on Spiritual Warfare. This is not one of them.
Review by ryantalley
16/06/2015
Overall, I really enjoyed the information presented in this book. It is an eye opener to the very real presence of Satan and his legions of demons. I would definitely read this book again, highlighting it thoroughly! Kris Vallotton knows firsthand about the topic of his book - spiritual warfare. He was plagued by physical and psychological attacks, and it was years before he discovered that the root cause of his trouble was demonic aggression. He cites very real scenarios and experiences from his own life that are real and genuine. I feel that this book can be a great tool for preparing for the field of battle - the spirit realm. Know your enemy, right?I went through several instances of momentum where I couldn't put this book down and I felt like I could read it in one entire sitting, only to be derailed soon after by something the author had written or said: -There are several instances in this book where Vallotton is denoted as a prophet, or he attributes others as being prophets or prophetic in nature. -Another time in the beginning pages of the book he tells a student in one of his classes that he can and has gone several weeks without sinning.-Several other references to practices that I personally feel are doctrinally unorthodox.In closing I would recommend this book to others, but I would not rank it as the foremost authority on the subject. This may not be a very popular review of Vallotton's book from what I have seen so far, but this is my honest review. Please be diligent when reading this book to discern between the facts concerning demonic attack, and Vallotton's personal views of Continuationism. ______________________________________________________________________________________I was given this book for free to review by the Author or Publisher, and received no compensation for my review.
Review by jcheinrichs
16/06/2015
Interesting personal story, the theology is nothing new, found in scripture. Good reminder of what is in the word about fighting spiritual battles.
Review by jackie1966
16/06/2015
TITLE: Spirit WarsAuthor: Kris Vallotton Foreward by Bill JohnsonIt's the first of January in the year 2012 and I have read two great books so far and the book by Kris Vollotton gave me insights to deliverance and all that it involves that I had not heard of in my past. What the author tells of his real life story of years being attacked by the devil and his schemes during bouts of heavy anxiety attacks that plague him for years. He tells his story while being married, moving, dealing with his issues, and the birth of two children. This man endures adversity and the devil head on and tells how we can be delivered from attacks that seem to plague us more than one time. Quote: "I became reclusive and never wanted to be around people."After reading that quote and having to deal with my own spiritual battles and depression, I realized I am being attacked and I am not alone. Isn't it true that as Christians we tend to retreat at the first sign of conflict because we fail to recognize the true nature of the battle doing on inside us? I have experienced much of demonic bondage, torment and have been delivered myself. Kris is the pastor at Bethel Church in Redding, California. He leads a Supernatural Ministry and has been able to deliver others from their demonic oppression, first hand. If you want to win the invisible battle against sin and the devil you need to pick up this book now!I was given this book for my honest review. © 2011 Jackie Paulson
Review by BrookeYvonne
16/06/2015
I absolutely loved the book. It appears to be the author's personal experience, but it's an eye opener into the spiritual realm. Whether or not, it's completely accurate - I'm not going to judge that, but it was a great reminder that we are not alone in this world. For Christians, we are in an ongoing battle. I recommend this book to Christians who are interested in learning more about the spiritual realm.