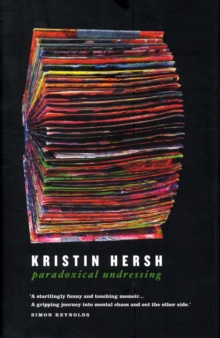 Paradoxical Undressing
Hardback
Description
Kristin Hersh was a preternaturally bright teenager, starting university at fifteen and with her band, Throwing Muses, playing rock clubs she was too young to frequent.
By the age of seventeen she was living in her car, unable to sleep for the torment of strange songs swimming around her head - the songs for which she is now known.
But just as her band was taking off, Hersh was diagnosed with schizophrenia - a misdiagnosis of bipolar disorder as it turned out.
Paradoxical Undressing chronicles the unraveling of a young woman's personality, culminating in a suicide attempt; and then her arduous yet inspiring recovery, her unplanned pregnancy at the age of 19, and the birth of her first son.
Playful, vivid, and wonderfully warm, this is a visceral and brave memoir by a truly original performer, told in a truly original voice.
Information
Format: Hardback
Pages: 336 pages
Publisher: Atlantic Books
Publication Date: 01/01/2011
Category: Rock & Pop music
ISBN: 9781848872387
Free Home Delivery
on all orders
Pick up orders
from local bookshops
Reviews
Showing 1 - 2 of 2 reviews.
Review by tixylix
16/06/2015
I really enjoyed reading this book. It made me want to find out more about the bipolar condition, about Kristin Hersh, about Throwing Muses, about Providence, about synaesthesia and having babies. I suppose one measure of a good book is that it makes you interested in stuff. I saw Kristin Hersh recently, talking about this book (which in the UK is called Paradoxical Undressings, but Rat Girl in the States) and singing songs referred to in the book. I loved listening to her talk and especially her music and was keen t read the book afterwards. It's an autobiography based on Hersh's diaries and memories from her days in the Throwing Muses and describes episodes from the gigs they played, people they knew, places they lived and the first album they made while Hersh was pregnant. I love the way Hersh writes without pity for herself whilst also writing about some pretty difficult times. Her insomnia and mania are reported matter of factly and the 'evil' of the songs which took over her after she was run over are made less hard to read because of this. When I heard her speak that evening, the possibility of her writing more wS discussed. She said she found writing more captivating than she had expected and maybe more writings would be on their way, possibly fiction. I can't wait.
Review by Ireadthereforeiam
27/08/2015
I wish I could have taken this book for Kristin Hersh to sign when I met her after her talk at the Writer's Festival last weekend. It is a library book, I reckon she would have liked the idea. It speaks to me too, as what I got her to sign (her new book/CD) wasn't about having the signature, it was about meeting her and saying hi. I am also quite glad I hadn't read her book before meeting her as I would have had the weight of her story on me. It is a strange thing to know lots of stuff about someone who doesn't know you. Anyway, the book about a year in her life is wonderful. I cannot give it 5/5 though because I feel angry at it for being so compulsive :) I carried it around the house with me <i>just in case</i> I could catch a minute, or less, to read a few words here and there. That's how I know I am on to something good. I desperately crave a few minutes to read it, and I take it everywhere in case such an opportunity presents itself (including out in the car- in case I am involved in a traffic jam, or some unforeseen situation which results in time to spare). How the last person who had this book out took so long with it I don't know.......