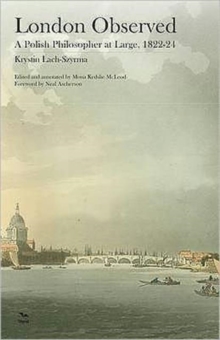 London Observed : A Polish Philosopher at Large, 1822-24
Paperback / softback
Description
The philosopher and writer Krystin Lach-Szyrma came to Britain in 1820 as tutor to two Polish princes, as their Grand Tour took them to Enlightenment Scotland, where they spent two years studying at Edinburgh University.
After a short tour of continental Europe they returned in 1822 to England to enjoy the delights of London and observe its monuments and people.
With insatiable curiosity and good humour, Lach-Szyrma recorded his impressions of London and Londoners in perceptive and readable style.
Of peasant origins, Lach-Szyrma was no snob. His observations are shrewd, witty and irradiated by the enthusiasm of a Romantic.
Information
Format: Paperback / softback
Pages: 208 pages, 12 black and white illus
Publisher: Signal Books Ltd
Publication Date: 28/09/2009
Category: British & Irish history
ISBN: 9781904955641