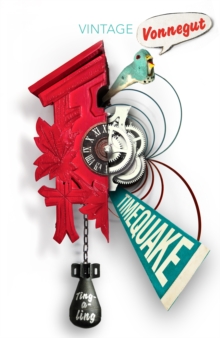 Description
According to science-fiction writer Kilgore Trout, a global timequake will occur in New York City on 13th February 2001.
It is the moment when the universe suffers a crisis of conscience.
Should it expand or make a great big bang? It decides to wind the clock back a decade to 1991, making everyone in the world endure ten years of deja-vu and a total loss of free will - not to mention the torture of reliving every nanosecond of one of the tawdiest and most hollow decades.
With his trademark wicked wit, Vonnegut addresses memory, suicide, the Great Depression, the loss of American eloquence, and the obsolescent thrill of reading books.
Information
Format: Paperback
Pages: 240 pages
Publisher: Vintage Publishing
Publication Date: 01/08/1998
ISBN: 9780099267546
Free Home Delivery
on all orders
Pick up orders
from local bookshops
Reviews
Showing 1 - 5 of 5 reviews.
Review by sflax
16/06/2015
"Later work" often means "lesser work," but not in Vonnegut's case. Timequake reminded me of every reason I love Vonnegut. It was funny and sad, and occasionally bordered on mind-blowing. The passages about writing make it particularly enjoyable for those who like to write.
Review by flissp
16/06/2015
I just found this incredibly boring.
Review by jwood652
16/06/2015
This isn't really a novel but an autobiographical ramble mixed with snippets about the timequake. Vonnegut fans will enjoy it especially the reemergence of SciFi writer Kilgore Trout (Vonnegut's alter-ego). Kilgore's prescription for PTA (Post Timequake Apathy) is the recurring theme: "You were sick, but now you are well again, and there is work to do."
Review by Jami_Leigh
16/06/2015
Plot: 2 stars <br/>Characters: 2 stars <br/>Style: 2 stars <br/>Pace: 2 stars <br/><br/>I don't know why I remember liking Vonnegut. I have memories of loving Breakfast of Champions back in college, and thinking Galapagos wasn't half bad. This? Reads more like a rambling digression of a senile person who just wants to humble brag about a dull, limited life. Meh.
Review by brianinseattle
27/08/2015
There were maybe a dozen moments when I was laughing out loud with this book. Vonnegut has some fantastic criticisms of our society. However, I didn't enjoy the rambling, almost thought-flow style of the book. It's also extremely repetitive which was a conscious device, I'm certain, but for me it didn't add anything. I enjoyed <u>Slaughterhouse Five</u>, so I'm going to try another Vonnegut book before I decide if I love him or just respect him.