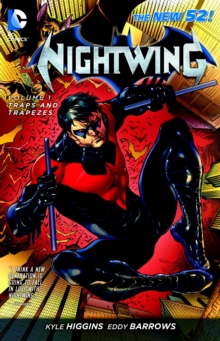 Nightwing Volume 1: Traps and Trapezes TP
Paperback
Description
Haly's Circus, where Dick Grayson once performed, returns to Gotham City,bringing with it murder, mystery, and superhuman evil!
To uncover more clues towhy a mysterious assassin is targeting him, Nightwing joins the circus's tour. But as Dick becomes reacquainted with the big top he once called home, he learnsthere are darker secrets to be discovered.Collects Nightwing #1-7.
Information
Format: Paperback
Pages: 160 pages
Publisher: DC Comics
Publication Date: 01/10/2012
Category: Superheroes
ISBN: 9781401237059
Free Home Delivery
on all orders
Pick up orders
from local bookshops
Reviews
Showing 1 - 3 of 3 reviews.
Review by DanieXJ
23/09/2015
Nightwing has always been on of my favorite Batman family characters (although Red Robin is growing on me). And this TPB only reinforces that. When reading this I was still a little confused about how the Batman New 52 reboot worked, but, going with the flow of the story also worked. Basically Batman comes back and wants to be Batman again, and so Dick goes back to being Nightwing I think.In this volume Haley's circus, where Dick grew up, is back in town and at the same time someone is trying to kill Dick because they claim he's the fiercest killer in Gotham City. He travels with the circus a bit, trying to find who the assassin is.Batgirl appears too. It seems as though she's the Batman family's 'super sub' and she pops up in most of the Gotham City titles. (I like it). She's nicely worked into Nightwing's plot as well as having her own small plot in it too.As for the art, it was okay, but I didn't love it. Some of the characters just looked too much alike.
Review by nmhale
16/06/2015
Richard Grayson, once Batman's sidekick Robin, is a superhero in his own rights as Nightwing, another defender of Gotham. This book collects the first several issues of the title as it debuted in the New 52. It begins with Grayson reflecting on his city, and his recent return to his role as Nightwing (having filled in as Batman while Bruce Wayne was away). His life is never tame, but things become rather more complicated when he visits Haly's traveling circus, the organization that employed his parents and raised him. They happen to be in Gotham, and although he avoids it for several days, he knows that he has to see old friends who were family. Upon leaving, he is attacked by a masked stranger who claims that Richard Grayson is a brutal murderer, and then he is flown to a warehouse where the owner of the circus is dying. He tells Dick that he knows about his real identity, and that he wants him to take over ownership of the circus when he dies. Which happens quite quickly; on Dick's return flight, actually. His mysterious assassin calls him with the news that he knows his double identity, which he tortured out of Mr. Haly. Nightwing rushes back to save Mr. Haly, but is too late. Now Nightwing has two mysteries to solve: who is trying to kill him, and why the man killed Mr. Haly. On top of that, he has a circus to run, and a burgeoning relationship with Raya, the female acrobat that he has known since he was a child. Grayson decides to stay with the circus as it travels the country, investigating the ever deepening puzzle that is intricately connected with Haly's. The story comes to a tragic climax when Haly's circus returns to Gotham, performing a special tribute show to Richard's parents. I really enjoyed this graphic novel. I loved Grayson before, and I will always consider him the ultimate Robin. He is even more awesome all grown up and mature, still a fighter, and broody (although not so much as his mentor). The mysteries are compelling, and I appreciated that this initial story line dealt heavily with his past, because it helped me to catch up on his character - I know him through the television series, but not the comics. The art work was good; it's not my favorite style, and I disliked the guest artists, but overall it didn't detract from the story for me. I had a thoroughly good time reading this comic, and am adding it to my serious list, along with Batman.
Review by ElizaJane
16/06/2015
I love Nightwing!! What a wonderful start for Dick Grayson in The New 52! I first really got to know Nightwing when I read Vol. 3 as I read through the "Death of a Family" arc and I ordered Vol. 1 & 2 right away as I knew I had to follow him from the beginning. He is one of my favourite Gotham characters. This first volume pretty much starts Nightwing off where he was pre-52, coming off of being The Batman and returning to his own beloved Nightwing. Dick meets up with Haly's Circus again and old friends, though not much backstory is given for him yet, we do get secondhand information, the tale of his parents death and a good feel for where he came from. This is pretty much a self-contained story that ends by the final issue and was a thrilling read with lots of surprises. Dick faces new enemies and only briefly crosses paths with Batgirl so not a lot of familiar faces leaving Nightwing as the main focus. The final issue brings in a small tie to the Court of Owls (which I've read) which was exciting (for me) to get that extra tidbit. Then the book sets up the beginning of the next arc. The art is fantastic. I adore Nightwing's costume and can't wait to catch up with Volume 2.