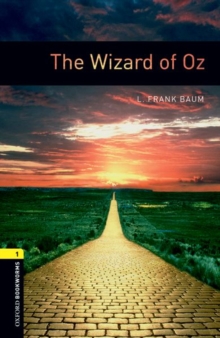 Oxford Bookworms Library: Level 1:: The Wizard of Oz
Paperback
Description
Classics, modern fiction, non-fiction and more. Written for secondary and adult students the Oxford Bookworms Library has seven reading levels from A1-C1 of the CEFR. Dorothy lives in Kansas, USA, but one day a cyclone blows her and her house to a strange country called Oz.
There, Dorothy makes friends with the Scarecrow, the Tin Man, and the Cowardly Lion.
But she wants to go home to Kansas. Only one person can help her, and that is the country's famous Wizard.
So Dorothy and her friends take the yellow brick road to the Emerald City, to find the Wizard of Oz...CEFR A1/A2 Word count 5,440
Information
Format: Paperback
Pages: 64 pages, line illustrations
Publisher: Oxford University Press
Publication Date: 01/11/2007
Category: ELT graded readers
ISBN: 9780194789264
Free Home Delivery
on all orders
Pick up orders
from local bookshops
Reviews
Showing 1 - 5 of 10 reviews.
Previous | Next
Review by yuchaso
16/06/2015
I read The Wizard of Oz.It's adventure story.Main charecter is a girl, Dorothy.She want to kill bad witch to come her home.She got some fellows and went with them.I enjoyed the story.And it is easy writing.
Review by natuki
16/06/2015
Dorothy lives in a small house in Kansas. One day, this house was blowed by a cyclone, and she and her dog called Toto was in the house. They arrived a starange country called Oz. They go to see the Wizard of Oz in the Emerald City to know how to return to Kansas, making new friends.I had not known this story, but I had heard this story's title. So I enjoyed reading this story.I thought that she is a very kind and brave girl. She comes across alot of difficulty till she grants a wish, but I think that it was good that finally she come back for Kansas safety.
Review by pygmypom
16/06/2015
Pictures of the book are so cute. So, I read it. A phrase of the Scarecrow impressed me."You need a lot of things! But you have brains, and you can think, and that's wonderful."I thought about my life. And I noticed I am living in a lot of things. Why we cannot be satisfied our life? Is not it wonderful?
Review by rinrin326
16/06/2015
This is an adventure story.One day, Dorothy and Toto go to differnt world by accident. It is a majic world! They travel this world to find way they back home.I like this story. Because I like fantasy very much. And mystery part in this book makes me fun!
Review by gucchi
16/06/2015
Main charecter is a girl, Dorothy. One day hcyclone blew her house and she went to a country of Oz. She wanted to go back home so she decided to meet wizard of oz with friends.I like this book.When I was a child, I read this many times.I couldn't this story's end soit is very interesting for me.
Also in the Oxford Bookworms ELT series | View all