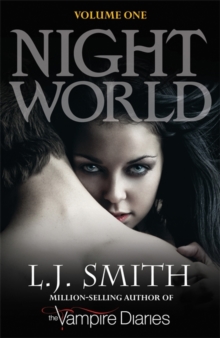 Night World: Secret Vampire : Book 1
Paperback
Description
In 'Secret Vampire', Poppy is dying. Her best friend, James can offer her eternal life - as a vampire.
One kiss and she sees into his soul. But can she follow him into death ... and beyond? In 'Daughters of Darkness', there are three sisters with a secret, on the run from their cruel and ruthless brother.
Can their new human friend Mary Lynette resist the powerful charm of their brother -and save the sisters and herself from a deadly fate at the hands of a werewolf?
In 'Enchantress', Blaise is irrestistible. She's lethal. She bewitches boys for sport. then she meets a boy who matters to her cousin. Thea. They become rivals in love. It's Thea's white magic against Blaise's black magic.
They're both breaking the rules. But it's Thea who risks expulsion from the Night World ...
Information
Format: Paperback
Pages: 624 pages
Publisher: Hachette Children's Group
Publication Date: 01/04/2009
Category: Horror & ghost
ISBN: 9780340996621
Free Home Delivery
on all orders
Pick up orders
from local bookshops
Reviews
Showing 1 - 4 of 4 reviews.
Review by TheLRCatCCC
16/06/2015
i enjoyed reading the night world books because pf the constant drama and the urge of having to finish them! I would like to see the stories carry on, like where are Poppy and James now? whats happened to Mary Lynette? if we knew what was happening i think it would give the story more of an edge but over all i love the night world books! LL
Review by julienne_preacher
16/06/2015
This is a very uneven set of novels. The first one (Secret Vampire) wasn't very good. I liked the premise: a girl with fatal disease and a boy who offers vampirism as a cure. The story had potential but it was poorly executed. The characters were underdeveloped and the whole thing felt rushed. It was like reading a first draft of a novel written by someone who hasn't yet learned the rules of the storytelling. After the frustratingly bad first novel I wasn't expecting much from the second but Daughters of Darkness turned out to be fantastic! It was definitely my favorite out of the three. The story was well structured and paced, and the characters, especially the female ones, were interesting and well developed. I loved the heroine, who was smart and brave and all-round awesome. The portrayal of the hero was kind of inconsistent, which is my biggest problem with the book, but all in all it worked well enough for me to happily read more Night World if more volumes ever come my way.The third novel falls somewhere between the previous two. It was definitely better than the first, but not nearly as good and engaging as the second. The plot was fine, but I would've liked a bit more thorough exploration of the soulmate principle. I was puzzled by the character dynamics, especially between the heroine and her trouble-making cousin. Still, it was an entertaining read.I'm generally not a fan of soulmate stuff, but this series manages to explore the concept in interesting ways. In all the stories there's the same power of the soulmate principle at work, but every couple is different and they handle the situation differently. For some it's easy, for some it's not. I like it better when it's not. Also, I like my romance less mushy, more plotty. No doubt these preferences play their parts in me liking Daughters of Darkness best.
Review by wyvernfriend
16/06/2015
Originally published as three books, Secret Vampire, Daughters of Darknes and Enchantress this is a compilation of those three young adult stories of teen love between otherworldly creatures and regular folk (though often the regular folk aren't always all that regular) The first is a story of a girl dying of cancer who is offered a second chance by her vampire life-mate. The second is a story of an arrogant vampire who finds love with a lowly human and the third is the story of some witches who find that they can't assume anything about humanity and that maybe, just maybe it's not a good thing to destroy themOverall pretty predictable, probably would be better to take a break between them.
Review by katie1802
16/06/2015
Good and everything, but is it really anything we haven't seen before? I might read the others, depending on whether or not I'm in the mood for a good cliche.
Also in the Night World series