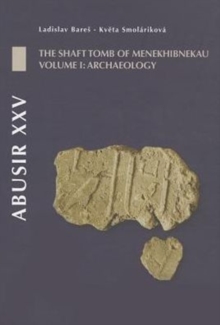 Description
The tomb published in this volume is the third large Late Period shaft tomb that has been excavated in the south-western part of the Abusir cemetery.
It belongs to Menekhibnekau, who held a number of important titles (among the "General", "Overseer of Libyans", "Overseer of the kbnwt-vessels", etc) under Ahmose II and may have lived until the beginning of Dynasty 27.
Although his tomb had been robbed, a number of important and interesting pieces from his burial equipment, including a seal of the necropolis and a faience menit with the name of Ahmose II, have been found in his burial chamber.
In a separate shaft, large embalmer's cache has been found that contained more than three hundred large storage vessels and a number of smaller receptacles of different kind.
On many of them, short inscriptions were preserved that often mention materials used during the mummification process including the presupposed dates of their use.
In the excursi, texts from the embalmer's deposit, Phoenician and Aramaic inscriptions on a Phoenician storage jar and a xylotomic analysis of wooden objects from the embalmer's deposit are published.
The religious texts and scenes that originally had decorated the burial chamber should appear in the second volume of this book (presently under preparation).
Information
Format: Hardback
Pages: 360 pages
Publisher: Czech Institute of Egyptology
Publication Date: 30/03/2012
Category: Archaeology
ISBN: 9788073083809
Also by Ladislav Bares