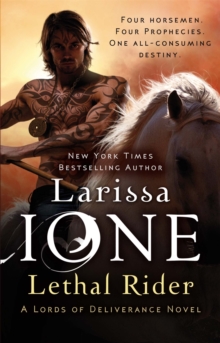 Description
The prophesies were there ...but no one listened. They are the four Horsemen of the Apocalypse and they have the power to usher in Doomsday ...or prevent it.
Eight months ago, demon-slayer Regan Matthews seduced the fourth Horseman of the Apocalypse, Thanatos.
Now, she's pregnant with his child - a child who, if prophecies are to believed, is fated to save the world.
But things aren't always as they appear, and the baby conceived by two warriors may yet be the very catalyst that kicks off Armageddon.
Thanatos, who will be Death when his Seal breaks, never thought he'd have a family, but as he grows close to Regan and his unborn son, he allows himself to dream.
But as the world edges closer to the end of days and his evil brother plots against him, Thanatos realises that the sacrifice he must make will destroy everything he dreamed of having.
Information
Format: Paperback
Pages: 464 pages
Publisher: Little, Brown Book Group
Publication Date: 01/05/2012
Category: Fantasy
ISBN: 9780749955526
Free Home Delivery
on all orders
Pick up orders
from local bookshops
Reviews
Showing 1 - 5 of 8 reviews.
Previous | Next
Review by Capnrandm
16/06/2015

As the distasteful circumstances of their first disastrous coupling (a comedy of roofies, misinformation, and miscommunication) is safely in the past tense, we get to enjoy Thanatos and Regan cautiously dealing with their soon to be born child and fledgling connection. "Fragile" is a good word for both of these emotionally abused warriors, and the back an forth dance of low self esteem is my least favorite part of the book. Thanatos's inner monologue cracks me up, and his cave man ferocity for Regan and his child conjures up some of my favorite aspects of The Black Dagger Brotherhood.

All of Ione's books are frenetic with violence, politics, and passion. Though the themes driving Thanatos and Regan are fairly cliche (stuck together for the sake of the baby, etc.), this did not detract from my enjoyment of their story. I grew impatient with their low self esteem and continued ccle of misunderstanding, but Ione ironed that out quickly enough that I didn't lose interest. I have a spotting reading history with these books, which gave me enough background to enjoy the apocalypse raging around the love birds, but I think a completely new reader would be lost. Ione's books generate strong emotions, which helps differentiate the seriously-evil-cheer-when-they-die bad guys (like the racist Aegi) from the hidden-depths-maybe-retrievable bad guys (no spoilers here), or even the still-kill-a-lot-of-people-but-not-so-bad good guys (like Thanatos.)
Review by Author_AndriaLarge
16/06/2015
Review by mlsimmons
16/06/2015
I love this series even more than the Demonica series and this is the best one yet. Can't wait for the next one.
Review by Lauren2013
16/06/2015
Lethal Rider4.5 StarsBest in the series so far as the Demonic Apocalypse plot reaches a climax and the romance finally lives up to its potential. Fast paced and action packed from the outset, <b>Lethal Rider</b> begins exactly where <b>Immortal Rider</b> left off with Thanatos bent on revenge and Regan guilt ridden but determined to protect herself and her child. Thankfully, their love-hate relationship is relatively angst free as they slowly come to forgive, trust and love one another. The politics and machinations of the Underworld and its denizens continue although this installment is not as violent or gruesome as the last, and Ione illustrates once again that morality is never black and white and so-called good people can commit heinous atrocities supposedly in the name of doing what is right. The only weak point involves the inclusion of the Daywalkers vs. Nightwalkers subplot, which is insufficiently developed and contributes little to the story or Thanatos's characterization.Finally, there are interesting developments in the Pestilence/Reseph storyline and some intriguing hints at things to come with Reaver and Harvester. Looking forward to what Ione has up her sleeve for the next installments.
Review by aoibhealfae
16/06/2015
Lethal Rider is the continuation of the Lord of Deliverance series from which one the Horseman of Apocalypse – Reseph's seal was broken (or killed) and he became Pestilence and started the clockwork of apocalypse. Three of the Horseman – his brothers and sister- tried to find ways to stop him but after countless attempts, they had no choice but to find some ways to eliminate him before the entire population obliterate by incoming demonic forces. Two of the horseman, Ares (War) and Limos (Famine) survived the attempts to broke their seal while Thanatos (Death), based on a prophecy, assumed his virginity was his seal and for thousand of years he became a celibate to prevent himself from becoming Death. But of course, one Aegis agent (kinda slayer society) managed to get both of them drunk and under influenced and she actually take his virginity which pissed him off mightily since he thought his seal was broken (that he nearly killed the island's population in a sonic wave blast) and so his siblings paralysed him by demonhound's venom so that he won't go kill anyone again.<br/><br/>For 8 months he spent watching Jersey Shore and telemarketing until he could escape.<br/><br/>At the start of this book, Regan was heavily pregnant with Than's child and began having nightmares about her dying and him covered in blood next to her. Suddenly, she was attacked by a vampire and Than (newly prison break) came and saved her. Realizing he's the father of her child, Regan had a bit misgivings about letting him protect her and her child (who they now realize was Than's apocalypse seal) especially with his caveman ways and short fuse to damned destruction (well, he is Death, duh).<br/><br/>Initially I had troubled with Than's tendencies to overreact (boy, for an old old old guy, he did have them by buckloads) and the storyline kinda go to the same ways as cheap romance novels that was my guilty pleasure after depressing novels. Well, its the whole "fall in love after being pregnant and insecure tortured guy" thing. Frankly, for a story about impending apocalypse, the author doesn't practice frugality in killing every several characters in every pages in spine breaking, blood gushing and multitude of beheading with dramatic arterial spattering.<br/><br/>Well, I had keen appreciation for paranormal horror stories so if you like a bit Dexter and the sexy part of True Blood, I'm sure that you will enjoy this book.<br/><br/>Since the previous book had build up to this one book, its best to say that I had faith that Larissa Ione won't disappoint me in the next one. Well, you did get the whole idea that the world was already at the verge of collapse from all the destruction but to completely turn the antagonist in a way like it was mindblowing and very intriguing. I am so happy that the next book will be out at the end of the year so I will elaborate more about the series once I've reached the ending.<br/><br/>Final words, about the book, the cover is absolutely gorgeous. So is the next one too… *bite fingernails*