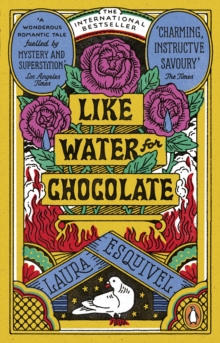 Like Water For Chocolate
Paperback
Description
The number one bestseller in Mexico and America for almost two years, and subsequently a bestseller around the world, "Like Water For Chocolate" is a romantic, poignant tale, touched with moments of magic, graphic earthiness, bittersweet wit - and recipes.
A sumptuous feast of a novel, it relates the bizarre history of the all-female De La Garza family.
Tita, the youngest daughter of the house, has been forbidden to marry, condemned by Mexican tradition to look after her mother until she dies.
But Tita falls in love with Pedro, and he is seduced by the magical food she cooks.
In desperation, Pedro marries her sister Rosaura so that he can stay close to her.
For the next twenty-two years, Tita and Pedro are forced to circle each other in unconsummated passion.
Only a freakish chain of tragedies, bad luck and fate finally reunite them against all the odds.
Information
Format: Paperback
Pages: 224 pages
Publisher: Transworld Publishers Ltd
Publication Date: 01/01/1993
ISBN: 9780552995870
Other Formats
EPUB from £3.99
Paperback from £6.59
Free Home Delivery
on all orders
Pick up orders
from local bookshops
Reviews
Showing 1 - 5 of 22 reviews.
Previous | Next
Review by nakmeister
16/06/2015
Set in Mexico, Tita is the youngest child in a Mexican family, and according to tradition must remain unmarried and look after her mother until death. She has fallen in love with Pedro, and he falls in love with her, but since he cannot marry Tita, instead marries her older sister. Part story of a doomed romance, and part cookbook, this novel explores the concepts of love and food.Each chapter starts with a recipe which Tita is cooking, which is quite interesting. The book is quite short, is a little odd, but the story is a powerful one, which I think most people would find emotional and thought provoking. Worth reading, particularly if you like cooking.
Review by wendyrey
16/06/2015
Interesting, if fantastic, love story , but I do think she ends up with the wrong man, marrying John Brown would have been a better ending than being consumed with love with Pedro, but then I'm a rationalist old cynic.What I really want to know is do all the recipes work if you can get the ingredients, I have doubts about the cake. And what are all those different chilies?
Review by ablueidol
16/06/2015
The story and structure is enchanting. We follow the life and frustrations of Tita via a meal per month but over 20 years plus and more with flashbacks. She is forbidden to marry as she is needed to look after her mother in old age but her lover marries the sister to be near her. Magical realism created some lovely images for the emotions. It might read better in Spanish but it was a bit wooden in parts. It has a lot of interesting characters that evoke the period rather then explain it. A enjoyable midday snack rather then a splendid feast.
Review by smully
16/06/2015
When an author attempts something unique in writing style, and it works....you get stories like this. Esquivel's choice to present the story in conjunction with traditional Mexican recipes and women's folklore sounds sketchy until to you start to read. It is a beautifully woven tale about family and tradition and loyalty and passion. With each installment you become more wrapped up in richness and warmth of the kitchen and understand why it was so powerful for Tita. I echo other reviewers in applauding the flowing use of magical realism, as it accompanies the soul of the story rather than distracting from it.
Review by Omrythea
16/06/2015
Reading this almost made me start cooking-- and that is saying a lot from one who never ever cooks anything more complex than Ramen noodles.