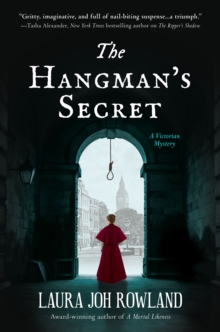 The Hangman's Secret : A Victorian Mystery
Hardback
Description
From award-winning author Laura Joh Rowland, a story about the darkness that lurks within and the deadly secrets that beg to be revealed.
Intrepid photographer Sarah Bain and her motley crew of friends are back to hunt criminals in the dark, seedy underbelly of Victorian London, but little do they know, the darkness may lurk closer than they first divined.
Photographer Sarah Bain and her friends Lord Hugh Staunton and sometime street urchin Mick O'Reilly are private detectives with a new gig-photographing crime scenes for London's Daily World newspaper.
The Daily World is the latest business venture of their sole client, Sir Gerald Mariner, a fabulously wealthy and powerful banker.
One cold, snowy January morning, Sarah, Hugh, and Mick are summoned to the goriest crime scene they've ever encountered.
A pub owner named Harry Warbrick has been found hanged and decapitated amid evidence of foul play.
His murder becomes a sensation because he was England'
Information
Format: Hardback
Pages: 304 pages
Publisher: Crooked Lane Books
Publication Date: 08/01/2019
Category: Historical mysteries
ISBN: 9781683319023