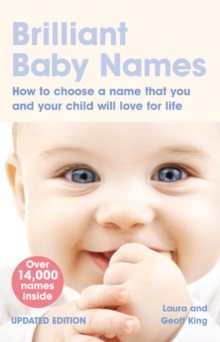 Brilliant Baby Names : How to Choose a Name That You and Your Child Will Love for Life
Paperback
Description
The name we are given by our parents has a big impact on us.
Throughout our life, from the playground to the office, other people will make instinctive and subconscious assumptions about who we are just from our name.
We'll hear it spoken in anger and joy, it'll be shortened, lengthened and parodied, it will be loved and loathed. Finding a name that you like, that suits your child and that your child will be happy to carry with them for the rest of their life is not easy.
The possibilities seem endless. So where do you start? Brilliant Baby Names has all the answers and will help you to take the worry out of getting your baby's name just right. More than just an alphabetical list of popular names, Brilliant Baby Names is the ultimate guide to naming your baby. Whether you're seeking advice about how to choose a name, looking for inspiration in finding the perfect name or searching for help in handling disagreements or family expectations, this book can help. As you'd expect, the book is packed with 1000s of names to review.
Each is listed with details on what they mean and their origin.
The lists are split into boys', girls' and neutral names to make the selection process as simple as possible. You'll re-discover traditional names that have been popular in the past; cool names where virtually anything goes; popular names that everyone's using; unusual names that perhaps you'd rather avoid; celebrity names that are on everyone's lips and famous names that the whole world will know. If you need more help or are looking for a namesake, you'll find extra inspiration in the lists of the 100 greatest names from cinema, literature, entertainment, sport and many more. As well as the name lists though, you'll find everything you need to keep in mind, and avoid, when considering a name for your child.
There's also detailed information on why choosing the right name is so important and how it may affect your child's opportunities in life. There's essential help and advice in handling and resolving any disagreements with your partner and managing family expectations. You'll find out what the law requires: when and how to register your child's name, how your legal name is used and what to do if you wish to change your child's name later. So, when it comes to naming your baby, Brilliant Baby Names is the only book you'll ever need.
Information
Format: Paperback
Pages: 240 pages
Publisher: Pearson Education Limited
Publication Date: 10/12/2008
Category: Reference works
ISBN: 9780273722007
Free Home Delivery
on all orders
Pick up orders
from local bookshops