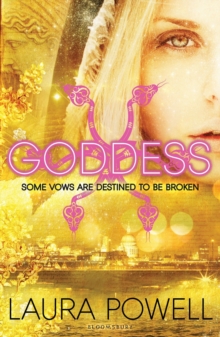 Description
Strikes. Starvation. Riots. Britain is at breaking-point and Aura is blind to it all.
The Cult of Artemis is the only home she's ever known.
Enclosed in its luxury lifestyle, the unrest gripping the country seems to belong to a distant world.
Her dream is to serve the Goddess and taking a vow of chastity and obedience seems a small price to pay.
But days before Aura is due to be initiated as a Priestess, she meets Aiden, the rebellious son of a cult insider, whose radical ideas and unsettling charm force Aura to question everything - and everyone - she knows.
Information
Format: Paperback
Pages: 304 pages
Publisher: Bloomsbury Publishing PLC
Publication Date: 10/04/2014
Category: General
ISBN: 9781408815267
Free Home Delivery
on all orders
Pick up orders
from local bookshops
Reviews
Showing 1 - 1 of 1 reviews.
Review by sunset_x_cocktail
16/06/2015
Actual rating 1.5 stars. <br/><br/>I received a copy from Netgalley. The cover caught my eye on this one and it sounded different and quite interesting. But in honestly I really don't quite know what to make of this particular book. <br/><br/>The setting seems to be an alternate UK. I originally thought it was a dystopia but there's nothing really in the plot to distinguish whether its a dystopia or an alternate modern day. The world building is a little flat in that respect. On the one hand, the story is quite fast paced.<br/><br/>The Cult of Artemis seems to be the leading religious group in this future and everything falls around that. Ancient Greek ideas in a modern world. Which was interesting enough. The story focuses on the girl who's supposed to an Oracle. The heroine, Aura, has been brought up in the cult and knows nothing else. One thing I did like was the use of the world "cult" to describe the group. I always thought "cult" was the term used by the media and law enforcement to refer to weirdo religious groups. Do cults refer to themselves as cults? I don't have the slightest idea. I just found the use of the term here interesting. The Cult here is prominent and fascinating in a way to see how it fits in the novel. Its rich in myth and its own interpretations. <br/><br/> I would have liked a little more background on how this cult came to power and how it became so popular. We're not told much about how the UK came to be in the state its in throughout the novel. There's riots and political uprising and things going on and finical crash is mentioned but not much else. <br/><br/>***SOME MILD PLOT SPOILERS****<br/>The cult's high priestess gives prophecies and oracles which help guide the people. But everything in the cult is not as it seems as our heroine discovers. Things are uncovered and she has to go on the run. Helped by a friend she makes. The male hero of the story Aiden is bold and brassy and along with his friend Scarlet, the daughter of an ageing rock star, is probably the most likeable character in the novel. He's not shy about his feelings over the Cult of Artemis and helps Aura when she realises the truth. <br/><br/>I don't really want to go into much more details over the plot as that would be very spoilery. <br/><br/>I honestly couldn't decide if I liked Aura or not. She was extremely sheltered but at least once she got out in the world and realised her potential and what she could do with her gifts to help, she did do something about it. On the other hand, the naivety was annoying. There's a little bit of slut shaming too which didn't sit well with me. <br/><br/> **Another mild spoiler** <spoiler>As a priestsess to Artemis she is supposed to remain virginal and pure. She obviously likes Aiden and doesn't know how to handle it. So when they finally do kiss and start advancing on that she freaks out and suddenly its thunderbolts and lighting. The Goddess possesses her and tries to make her kill Aiden. Which I found very very annoying. Preaching the virginity thing. Sex is not a crime. Kissing a boy should not bring a death sentence on his head. Its mentioned that priestesses who lay with a man were buried alive. This just really grated on my nerves. In a way I can understand why she freaked out not really knowing much else, but I still found it annoying. Especially since she was trying to be come more in tune with the real world. </spoiler> <br/><br/>The story is wrapped up and concluded okay. It was fast paced, just...for me there was something missing. I found the novel very plot driven rather than focus on the characters other than Aura. Its a tough one. Its okay...but I guess in the end it just didn't do it for me. <br/><br/>I would recommend this to anyone who is looking for a YA a stand alone thriller that's different. <br/><br/>Thank you to Netgalley and Bloomsbury for approving my request to view the title. Even though the novel wasn't to my taste thank you for the opportunity.