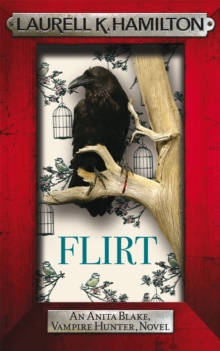 Description
When Anita Blake meets with prospective client Tony Bennington, who is desperate to have her reanimate his recently deceased wife, she is full of sympathy for his loss.
Anita knows something about love, and she knows everything there is to know about loss. But what she also knows, though Tony Bennington seems unwilling to be convinced, is that the thing she can do as a necromancer isn't the miracle he thinks he needs.
The creature that Anita could coerce to step out of the late Mrs. Bennington's grave would not be the lovely Mrs. Bennington. Not really. And not for long.
Information
Format: Paperback
Pages: 224 pages
Publisher: Headline Publishing Group
Publication Date: 01/02/2011
Category: Fantasy
ISBN: 9780755374373
Free Home Delivery
on all orders
Pick up orders
from local bookshops
Reviews
Showing 1 - 2 of 2 reviews.
Review by Lman
16/06/2015
Another novella-length episode in the mechanics of life as Anita Blake, but too, too similar to <i>Micah</i> in all dimensions; none of which allay my natural cynicism in considering <i>Flirt</i> nothing more than mere revenue production for new publishers. Nevertheless I read it in just over an hour; my interest retained for the whole book thanks to very little (gratuitous) descriptive sex while actually being regaled with further titbits on all things necromantic.This is another 'office' scenario - a return to Anita's day job; and a tantalising hint of the difficulties of work as a necromancer in the modern world. When Anita refuses to reanimate the spouses of two separate and obscenely rich clients - for reasons best left for the reader to discern - it all goes badly awry; Anita and her family again threatened with terrible harm.There's not much to read in this book, so not much of substance to discuss. Hence this will be a short and sweet review. I have been reading this series for what seems like <i>forever</i> and I have every intention of making it to the end - all things willing. I am still quite engrossed in the initial premise of Anita Blake and her macabre, diverting unusual powers - assuredly on display here, if only fleetingly. Yet I can't help speculating that this tale could have been substituted as a few chapters in another book; I'm not sure the story-line advanced with any great significance and I'm not at all convinced I <i>needed</i> to read this book. Assuredly I enjoyed a very short interlude within these few pages; decidedly I'm glad I bought this book for a very low price!By all means read it; may I suggest a loan, from a library, or a friend... it's most definitely not worth purchasing! What perplexes me uttermost is the need for Ms Hamilton to produce these 'mini-sagas' at all - after this many chronicles surely it can't be monetary, can it?(Feb 7, 2011)
Review by wyvernfriend
16/06/2015
The more I think about this book the more it creeps me out.There will be spoilers.So it's a typical Anita Blake novel from the recent lot. Jean-Claude is at a distance, Richard is invisible boy and mostly Anita is working with the were-pack of toy boys. The story starts with an incident that is apparently based on a real-life incident Laurell has with some friends while travelling (only with more clothes, Anita's men seem to favour tank-tops). Recounted by Laurell in an afterword and shown in a cartoon it's vaguely entertaining.Bracketing this Anita has meets with clients who want her to resurrect their dead spouses, neither for good reasons. I'm not quite sure why Tony Bennington wants his spouse back, he doesn't come across as wanting her, just wanting the appearance of her. The other, Ms Natalie Zell wants to punish her husband for dying on her. So when someone kidnaps Anita and some of her harem to force her to resurrect a body, they're not sure. The kidnappers have cut Anita off from her power and Anita has to use one of them to save her men.So she takes his free will from him. And then debates with her guys about letting him join her harem. She basically rapes him, and then dismisses the consequences as if they didn't exist. This is one of my problems with Anita, her actions have little consequence, she doesn't really regret much about how she treats people, it's her past that matters, her issues that surface again and again. I'd like to see a book where Jean Claude and Richard do an intervention, force her to think, to actually pay attention to the consequences of her actions rather than drifting through her world collecting power tokens and gaining a lot of power, too much power. She imbalances the power in the world and there's nothing done about that. And then there's the taster of the next book, where a five-year-old insists on being kissed on the lips, like the big boys do and I'm squicked even more.Sorry, no, this is it. I have to stop punishing myself like this and declare an end to reading this series. This was a short that I flew through and it's made me quite squicked with the world, I now need to read something exceedingly fluffy to ensure I don't lose the plot entirely.