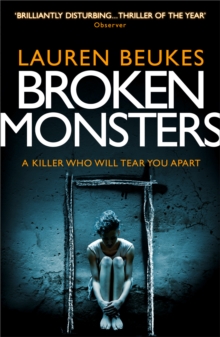 Broken Monsters
Paperback
Description
In the city that's become a symbol for the death of the American dream, a nightmare killer is unravelling reality.
The new thriller from Lauren Beukes, author of The Shining Girls.Detective Gabi Versado has hunted down many monsters during her eight years in Homicide.
She's seen stupidity, corruption and just plain badness.
But she's never seen anything like this.Clayton Broom is a failed artist, and a broken man.
Life destroyed his plans, so he's found new dreams - of flesh and bone made disturbingly, beautifully real.Detroit is the decaying corpse of the American Dream.
Motor-city. Murder-city. And home to a killer opening doors into the dark heart of humanity.A killer who wants to make you whole again...
Information
Format: Paperback
Pages: 544 pages
Publisher: HarperCollins Publishers
Publication Date: 23/04/2015
Category: Crime & mystery
ISBN: 9780007464616
Free Home Delivery
on all orders
Pick up orders
from local bookshops
Reviews
Showing 1 - 3 of 3 reviews.
Review by Bernadette877
27/08/2015
Set in Detroit, a very broken city fighting back, where both ruin porn and the contemporary art scene are tourist attractions. An outsider artist is taken over by his dark dreams. A young boy's monstrously mutilated body is discovered. The police want to keep the horror under wraps. An online journalist seeks recognition through getting it all in the open; the truth is out there style. A teenage girl wants to expose the monsters lurking on the internet. Her friend is the victim of internet monstering. Mysterious outline doors get chalked onto walls... And something dark wants to break through. This book has everything I love about Lauren Beukes' work. It's creepy, edgy, has compelling characters, and holds up a distorting mirror all the better to reflect the world.
Review by PhilipJHunt
27/08/2015
A very satisfying read if you hang in there. At first there is a dozen or more plotlines, each evolving in short unconnected chapters. I'm wishing for a list of characters. But I persevere because (a) I enjoyed "The Shining Girls" by this author, and (b) the story begins its slow burn.Half way through I am thoroughly hooked by the glowing fire. Three-quarters of the way it's full-on bushfire. Everything is seriously weird and I am realising why Stephen King's name appears on the back cover.Lauren Beukes is a seriously good writer. Her imagery is refreshing and youthful, and her plotting skilful enough to both satisfy and surprise.
Review by busyreadin
27/01/2016
I finished this book, but I really didn't care whether I did or not. What started as a creepy murder mystery changed into something else. I'm just not sure exactly what. I didn't like any of the characters and felt there were too many threads woven into the story.