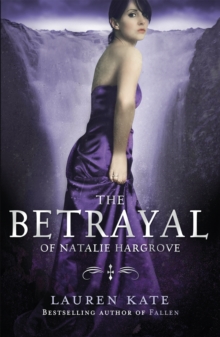 The Betrayal of Natalie Hargrove
Paperback
Description
All it takes is one fatal mistake ...High-school beauty Natalie Hargrove has spent years plotting to become prom queen.
She's got just what it takes: popularity, glamour and ruthless ambition.
When someone threatens to overturn her perfect plan, Natalie needs to take control.
But a critical error plunges her into a sea of secrets, shame and scandal. Because it turns out there's one thing even Natalie Hargrove can't command - and that's fate.
An irresistibly exciting novel from the author of international bestsellers Fallen and Torment.
Information
Format: Paperback
Pages: 288 pages
Publisher: Random House Children's Publishers UK
Publication Date: 06/11/2010
Category: General
ISBN: 9780552563727
Free Home Delivery
on all orders
Pick up orders
from local bookshops
Reviews
Showing 1 - 3 of 3 reviews.
Review by JessicaLouise23
16/06/2015
Natalie Hargrove has spent years plotting for her and her boyfriend Mike to take the throne as Palmetto high's Prince and Princess. Nat knows better than anyone how to get what she wants having come from the wrong part of town, with a dad in prison and a mother who's notorious for her string of marriages to climb up the social ladder. Natalie's put sweat and blood into becoming one of the most popular girls in school and to be crowned Palmetto Princess is to be accepted. It means that she's made it. So when blast from the past Justin threatens to ruin everything Natalie can't help but pull what should be a harmless prank on him- just enough to insure that his reputation is damaged- but when a prank turns into murder Natalie's plunged into a world of secrecy, deceit and guilt. Natalie soon realises that there are some forces that are not to be reckoned with and that fate and karma always has a way of catching up with you in the end…When I read reviews comparing this book to Macbeth and one of my all-time favourite films Cruel Intentions I had a feeling that I was going to enjoy this book and boy was I right! Every so often I love to read a dark, twisted, delicious tale and The Betrayal of Natalie Hargrove fit the bill perfectly. Reading this book is a bit like reading a gothic version of Gossip Girl. Natalie's a heroine you'll love to hate and the deadly secrets and betrayals will have you glued to this books pages. The Betrayal of Natalie Hargrove is such a hard book to review because it's such a topsy turvey read. I'd like to say that I loved the characters but I didn't they were shallow and selfish. I'd like to say that this is a fun enjoyable read but it isn't instead its dark, quirky and packs a punch. Yet all of these things are what makes this book so damn good. It's not your typical young adult read. It's different and scandalous and shows that Lauren Kate isn't afraid to write outside the norm.I don't think that this is necessarily a book for everyone, but it was just the grim, deadly sort of book that I love to read. It's a story about fate and karma. It's about your past catching up with you and atoning for your mistakes. It's a book where not everything is quiet what it seems. It's kind of like bitter black coffee or dark chocolate your either going to love it or hate it, but if you like your books edgy and grim or are looking for something a little different to anything else out there at the moment I would most definitely recommend this book.My Rating 4/5 stars
Review by elliepotten
16/06/2015
I really enjoyed <i>Fallen</i> and <i>Torment</i>, so I was thrilled to receive a copy of Lauren Kate's newly-published debut novel for review. For me, it wasn't quite as enjoyable as the <i>Fallen</i> series, with its complex supernatural world and intense characters and relationships, but it still had a lot going for it.Natalie Hargrove, our protagonist, is sailing through each day at school with only one thing on her mind: securing the positions of Palmetto Prince and Princess for herself and her boyfriend Mike. Her crown is pretty much in the bag, but Mike just doesn't seem interested in their campaign and there is a fly in the princely ointment: Natalie's arch-enemy Justin Balmer. So when the opportunity arises to play a well-timed prank on him that will all but destroy his chances, she grabs it with both hands. To her horror, Justin is found dead the next morning and suddenly she and Mike are trying to get away with murder...The first half of the novel didn't appeal to me very much at all. It was just too 'Mean Girls'. Natalie was a real Queen Bitch, wandering around making snide remarks about other people and glorying in her own popularity. The 'Bambies', a group of vacuous makeup-obsessed airheads who'll sleep with any boy that asks them, also feature heavily. Now, yes, patently the stupidity of this microcosm in which these girls imagine themselves to be mature, sexy and admirable is being ridiculed. But I really, truly hate girls like this and so it really put me off. Thank heavens for Mike, the laid-back rich boy, and Tracy, the hippie ruler of the junior girls' bathroom, who add a little personality to proceedings.To my relief, the second half of the book really picked up. The other girls at school didn't feature so highly, and the novel zoomed in on Natalie herself, on her background and motives, and the experiences that had made her so ambitious. Suddenly her ruthlessness is exposed as desperation, her shallowness as naivety, and she becomes a little more likeable for it. As she and Mike struggle to keep their cool and evade the suspicion of the authorities and their schoolmates, the suspense and tension grow, and turn the novel into a real page-turner. The end was semi-expected but packed a hefty punch nonetheless, and although it provoked more questions than it answered, it closed the book on a high point.I think I would have rated the book higher if I didn't have such a pathological aversion to the kind of characters that abound in Kate's school setting. Natalie's background story rounded her out as a person and redeemed her for me, and there were a couple of unusual characters and a slight hint of magical realism that added interest. I'd recommend this is a quick, light read for older teenagers - there are a fair few references to sex, drinking and drugs - and I'll be eagerly awaiting the release of <i>Passion</i>, the next in the <i>Fallen</i> series!
Review by lisa.isselee
16/06/2015
I didn't like this book at all, have no idea why not but it was a real struggle to keep reading.<br/>Maybe because it was a bit superficial or just not my cup of tea.<br/>And it might be one of the only books I own that i haven't finished by choice.