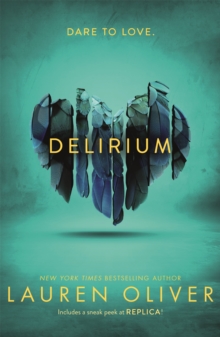 Description
'A dystopian Romeo and Juliet story that deserves to be as massive as Twilight' StylistThey say that the cure for love will make me happy and safe forever. And I've always believed them. Until now.There was a time when love was the most important thing in the world.
People would go to the end of the earth to find it.
They would tell lies for it. Even kill for it.But now love has been declared a dangerous disease.
Everyone who turns eighteen must be immunised with a procedure called the Cure. Lena Haloway is looking forward to being able to live the safe, predictable life the government claims the cure will bring.
But meeting Alex, an enigmatic boy from the Wilds, might just make her question everything she's been raised to believe. 'One of the most addictive books we've come across in ages ...from one of the most exciting writers around' Heat
Information
Format: Paperback
Pages: 416 pages
Publisher: Hodder & Stoughton General Division
Publication Date: 26/07/2011
ISBN: 9780340980934
Other Formats
Paperback from £6.29
EPUB from £0.99
Free Home Delivery
on all orders
Pick up orders
from local bookshops
Reviews
Showing 1 - 2 of 2 reviews.
Review by byeol
16/06/2015
??½<br/><br/>Although the last couple dozen pages where actually pretty entertaining, there were just too many points that bugged me with this book:<br/><br/>- so, so, SO many plotholes and logical errors/inconsistencies that irritated me to no end<br/><br/>- an overwrought, too verbose prose that was interesting at first but quickly became stale and managed to water down sentiments that otherwise might have been touching and meaningful; it also distracted greatly from the story as a whole and became nerve-grating to a point where I just wanted to skim. I like my atmospheric descriptions, but they have to contribute something to the plot. Here they were just pointless, while I would like to have them seen used to flesh out the world some more. As it stands, I don't buy it (see also my first point).<br/><br/>- then, ironically, we have instances of mere telling, not showing -- where showing actually would have mattered<br/><br/>- repetitive redundancies and reduntant repetitions, non-stop<br/><br/>- too many scenes that did absolutely NOTHING for the plot, that lead NOWHERE and were utterly obsolete<br/><br/>- that's not love, you hormonal sillies, you; that's called mutual infatuation and reciprocated feelings of attraction and -- to a lesser extent -- affection (you know each other for, what, a couple of weeks I can count on one hand?)<br/><br/>- also, I'm not quite sure who you want to kid with that last paragraph, but you are not a strong, almost-invincible fighter and rebel, Lena. You could never have done anything without <spoiler>Hana, Grace, and Alex, your knight in shining armor</spoiler><br/><br/>- after not having been allowed a more condensed, more precise story, we are even left with a cliffhanger? I don't think these obvious marketing choices will be able to lure me into reading the next installments anytime soon.
Review by Staciesnape
16/06/2015
Delirium is like nothing else I've read (which is rich considering I just said it reminded me of something). I think the idea for this book is genius and I'm unsure why its never been done before. In it love is bad. It infects you and makes your mind not your own. You don't think clearly, you cant stand to be away from the other person and you will do anything to keep them safe. So what do they do to keep a hold on everyone and make sure no one is opinionated or has a mind of their one? they cure you. When you turn 18 you undergo surgery that will remove your ability to love, thus leaving you a mindless zombie that will say and do anything the people in charge tell you to, the only problem is it doesn't always work, something Lena knows all too well. Ever since she was little all she's ever dreamed about is being cured. And when she was 6, her mother having committing suicide because of love, her mind was made up even more.But the day she went for her assessment, her life changed. It was the day she met Alex.She thought she was safe around him, he has the scars and he promised her he'd been cured. Until she began to fall for him and him for her, he couldn't lie any more and told her the truth about where he came from.At first that mattered, but then it didn't. They spent more and more time together, falling into a deep love. Lena began to change, be the person she was destined to be without rule. And when she did her character grew and blossomed so quick it was hard to believe it was the same person. Her and Alex are near to busted on a handful of occasions but it not until Lena finally got paired do they get hit with the harsh reality of the word they live in and the rules they are suppose to follow. But everything changes when they plan to make a run for it. For the worst.Lauren Oliver manages to grip you at every turn with this books. Her characters are well thought out, described and written. The world she creates is wonderful. To the point where I found myself wishing I was there a few times (haha silly). This book has something everyone can relate to. That love feeling. The feeling of not being able to think straight or eat because you are so in love that you cant focus on anything else. And the feeling when it all crumbles down around you."And now I know why they invented words for love, why they had to: It's the only thing that can come close to describing what I feel in that moment, the baffling mixture of pain and pleasure and fear and joy, all running sharply through me at once." This is one of my new favourites