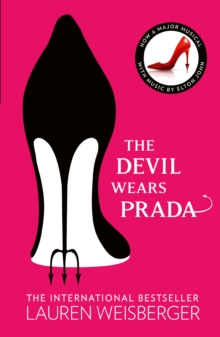 The Devil Wears Prada : Loved the Movie? Read the Book!
Paperback
Description
The classic bestseller - over a million copies sold worldwide High fashion, low cunning - and the boss from hell When Andrea first sets foot in the plush Manhattan offices of Runway she knows nothing.
She's never heard of the world's most fashionable magazine, or its feared and fawned-over editor, Miranda Priestly - her new boss. A year later, she knows altogether too much: That it's a sacking offence to wear anything lower than a three-inch heel to work. That you can charge cars, manicures, anything at all to the Runway account, but you must never, ever, leave your desk, or let Miranda's coffee get cold. And that at 3 a.m. on a Sunday, when your boyfriend's dumping you because you're always at work, if Miranda phones, you jump. But this is Andrea's big break - it's going to be worth it in the end. Isn't it?
Information
Format: Paperback
Pages: 416 pages
Publisher: HarperCollins Publishers
Publication Date: 28/06/2003
ISBN: 9780007156108
Free Home Delivery
on all orders
Pick up orders
from local bookshops
Reviews
Showing 1 - 5 of 6 reviews.
Previous | Next
Review by alaskabookworm
16/06/2015
Decent enough brain-candy. I found myself sympathizing with Miranda probably more than the author intended. Slow going at times, but a satisfying and "realistic" enough ending. This author may be a one-hit wonder.
Review by mydogatebob
16/06/2015
This book is very different to the movie, so if you're expecting the same tale, you won't find it. That said, I think it's better - the characters have more to them, and Miranda is that bit more evil, but also that bit more human. A very good book even if you don't care about fashion.
Review by wyvernfriend
16/06/2015
This is the story of a young woman, Andrea, just out of college who needs a job, wants to break into magazines or newspapers and starts looking for a job in this arena. There are thousands like her every year. Almost out of luck and money she gets a job working for Miranda Priestly the editor of Runway magazine.Miranda is exactly the boss you don't want to have. She expects her assistants to be psychic, and capable of being in two places at the same time. She leaves cryptic messages to them and then yells when they don't understand. Personally I would have left the job a long time before 11 months. Andrea is made of stronger stuff, she survives the eleven months of being on call almost 24/7; 13 hour days; running around manhattan trying to make her boss happy and being so tired and hungry that she can barely see straight.An interesting read but not something I'd care to read again.
Review by riverwillow
16/06/2015
I came to this after seeing the film. As always the book is very different, but was a great read. I work in media (TV not fashion) and sadly recognise elements of these characters in those I encounter on a daily basis. This was a wonderfully undemanding weekend read.
Review by Chase92
16/06/2015
The Devil Wears Prada was the first ever adult book I've read. I've heard a lot of rave reviews for this book, and the news of it being adapted into a movie only made me wanna read it more. Suffice to say, it was a very satisfying and enjoyable read.The story follows Andrea, an aspiring writer fresh out of college who lands a dream job as the assistant to Miranda Priestly, the high-profile editor of Runway magazine. Andrea soon finds herself thrust into a world of high-fashion and scrutiny, where the slightest mistake (fashion or otherwise) can get you to the bottom of the food chain. At the same time, she has to deal with Miranda, who's proved to be a crazy boss with some very outrageous demands. The first thing that hit me about this novel is how Andrea is presented as a rude and snobbish girl. She wasn't exactly the kind of protagonist you'd root for. But then the back story explains how Andrea becomes such a bit*h, and that's when we start to sympathize with her. Miranda certainly proved to be a 'boss from hell', and while it was fun reading about her craziness and such, I couldn't help but feel that her character is a little unrealistic (unless there is someone in this world as crazy and demanding as Miranda Priestly).Throughout the novel, Weisberger makes fun of the people involved in the fashion industry (like how they're all skinny and fabulous). Her writing is descriptive and stylish, never failing to capture the essence of the characters and present the conflict between Andrea and Miranda. There are strong themes of balancing the line between personal and professional, and it only served to add depth to the plot.Overall, The Devil Wears Prada is a refreshing and hilarious debut, and a must-read for everyone!