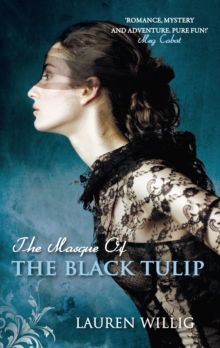 The Masque of the Black Tulip
Paperback
Description
'But if modern manhood had let me down, at least the past boasted brighter specimens.
To wit, the Scarlet Pimpernel, the Purple Gentian and the Pink Carnation, that dashing trio of spies who kept Napoleon in a froth of rage and the feminine population of England in another sort of froth entirely'.
Modern-day student Eloise Kelly has achieved a great academic coup by unmasking the elusive spy, the Pink Carnation, who saved England from Napoleon.
But now she has a million questions about the Carnation's deadly nemesis, the Black Tulip. And she's pretty sure that handsome Colin Selwick has the answers somewhere in his family's archives.
While searching through Lady Henrietta's old letters from 1803, Eloise stumbles across something more exciting than she ever imagined: Henrietta and her old friend Miles Dorrington were on the trail of the Black Tulip and had every intention of stopping him in his endeavour to kill the Pink Carnation.
But what they didn't know was that while they were trying to find the Tulip - and trying not to fall in love in the process - the Black Tulip was watching them...
Information
Format: Paperback
Pages: 480 pages
Publisher: Allison & Busby
Publication Date: 15/02/2010
ISBN: 9780749007881
Free Home Delivery
on all orders
Pick up orders
from local bookshops
Reviews
Showing 1 - 1 of 1 reviews.
Review by AdonisGuilfoyle
16/06/2015
In my defence, after claiming I was only going to read the first novel in Lauren Willig's Pink Carnation series as an experiment, I did buy my copy of <i>The Masque of the Black Tulip</i> (the second sequel) at a bargain price. I couldn't borrow a copy, because my local library is wisely understocked with Willig's books, but at least I didn't pay full whack to download the Kindle version. Which I was very tempted to do.What I cannot defend is how much I like these novels! They are written very much in the style of Georgette Heyer's 1930s Regency romances - my literary bugbear - with a very modern take on early nineteenth century England, and the author plays fast and loose with historical accuracy, but each story is so easy and enjoyable to read that there is little point in nitpicking the small stuff (although I could - matches were invented in the 1820s, the term 'burgle' was coined in the Victorian era, and 'rutabaga' is an American word, but hey, other than that!) Willig usually holds up her hands to any larger, deliberate anachronisms in the notes at the back of each novel - like switching the spy HQ from the Alien Office to the War Office, and rearranging the careers of historical personages to fit with the plot - so I don't mind applying the same rule to occasional minor inaccuracies, too.What I love about the Pink Carnation novels is that they are fast and fun - part Heyer-esque romance, and part historical adventure, paying homage to the Baroness Orczy's Scarlet Pimpernel series. The reader doesn't have to strain their brain to work out who will end up with who, or even which secondary character is the flowery spy of the title, but the devil is in the details. Not content with relocating Blakeney Manor to Kent in the first novel, Willig has very cheekily borrowed Austen's Donwell Abbey, home of Mr Knightley in <i>Emma</i>, and moved the gothic pile from Surrey to Sussex. The relationship between Henrietta Selwick, Richard's sister, and Miles Dorrington also reminded me somewhat of Austen's novel - 'There could be worse things than falling in love with one's oldest friend', thinks the hazel-eyed Henrietta. Or I could be reading far too much into the connection.The <i>Black Tulip</i> is definitely my favourite so far - Henrietta might say "bleargh" and 'scrunch' her nose a lot, but at least she isn't Tigger in a frock like Amy, and Miles is a thoroughly blokey sweetheart. I'm starting to notice a formula already - even down to the 'love scenes' - but oh look at that, the next book in the series is available at the library ...