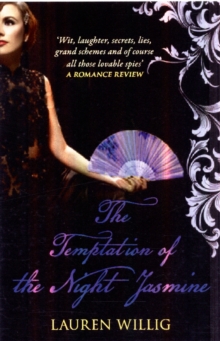 The Temptation of the Night Jasmine
Paperback
Description
After years abroad, Robert, Duke of Dovedale, has returned to England to avenge the murder of his mentor.
To uncover the murderer's identity, he must infiltrate the infamous, secret Hellfire Club.
But the Duke has no idea that an even more difficult challenge awaits him - in a romantic-minded young lady.
Charlotte Lansdowne wistfully remembers the Robert of her childhood as a valiant hero among men.
Too aware of his own flaws, Robert tries to dissuade Charlotte from her delusions, even as he finds himself drawn to her.
When Charlotte takes up a bit of espionage - investigating a plot to kidnap the King - Robert soon realises that she is more than the perfect partner in crime.
Caught in a dangerous game full of deadly spies and secret rites, Robert and Charlotte must work together to reveal the villain ...and confront their true passion for each other.
Information
Format: Paperback
Pages: 512 pages
Publisher: Allison & Busby
Publication Date: 29/08/2011
Category: Romance
ISBN: 9780749008789
Free Home Delivery
on all orders
Pick up orders
from local bookshops
Reviews
Showing 1 - 1 of 1 reviews.
Review by AdonisGuilfoyle
16/06/2015
Forgive me, but I may have developed a slight addiction to Lauren Willig's Pink Carnation series. The first, eponymous novel was fairly dire, granted, and I can see why a lot of reviewers threw their copies across the room in disgust and refused to read any further, but with each sequel, the writing improves and the characters grow more endearing. Henrietta and Miles in <i>The Black Tulip</i> were good fun, and the fairytale-turned-friendship pairing of Charlotte and Robert in this book fair melted my heart (not least because I can empathise with Charlotte's bookish fantasties). I even love the updated, hopelessly anachronistic and blandly generic new cover designs!The one nagging question with me is how the twenty-first century narrative of Eloise Kelly, and her living-family archive boyfriend Colin Selwick, relates to the early nineteenth century story which unfolds in every novel from Eloise's research. Surely the various journals and family papers in the Selwick library wouldn't go into such laborious detail, with conversations recounted word for word, or recount private moments in almost graphic imagery? Therefore, Eloise must be embroidering the facts while reading, and filling in the blanks - which would explain the modern behaviour of the characters or occasional Americanism ('No fair!'). However the parallel storytelling works, I enjoyed the synchronicity in this novel, with Eloise's flights of fancy regarding Colin, against Charlotte trading grand romances in novels for a very real relationship with her childhood hero. I could only nod fervently in agreement whenever Charlotte said something like, 'I like books, they're so much grander than real life', or Eloise's modern translation of 'It's so much easier to live the lives we'd like for ourselves when they're printed on celluloid in two hour long packages'. I think that reveals more about the reader than the book, but that's why I'm starting to love these novels so much. (That, and the continued references to the <i>Scarlet Pimpernel</i> - I recognised the wallpaper by Morris before Colin identified the in-joke, and the nod to the film version when Eloise is sneaking around in Colin's study made me smile.)Lauren Willig openly folds, spindles and manipulates history to serve her story - King George III and the Hellfire Club, in this instance - but as Eloise observes: 'no matter how faithful you tried to be to the historical record, there would always be that element of guesswork, of imagination, of (if we're being totally honest) fiction'. And I'm all for it - except to point out to the author that the word 'cheers' doesn't mean half of what she thinks it means!