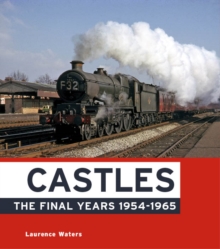 Castles: The Final Years
Hardback
Description
Designed by Charles Collett, Churchward's successor as Chief Mechanical Engineer of the Great Western Railway, the 'Castle' class 4-6-0 locomotive represented a significant development of his redecessor's 'Star' class of four-cylinder 4-6-0s.
When appointed, Collett was faced by the challenge of producing more powerful express locomotives, capable of hauling the heavy services then in service to the prewar timings, without adding significantly to the axle weight of the locomotives.
With larger boilers and cylinder bores than the 'Stars', the 'Castles' were about 10% more powerful and, at the time that the first was completed in 1923, represented the most powerful passenger locomotive in service on Britain's railways.
Between then and 1950, when production ceased, no fewer than 171 of the class had been constructed, of which 16 were rebuilds of older locomotives.
Although overshadowed by the later 'King' class in terms of performance, the 'Castle' class remained at the forefront of GWR and BR(WR) main-line operation until the final demise of steam in the region in the 1960s.
Of the locomotives built, eight survive in preservation. This book concentrates upon the final decade of the type's operation, from 1954 when the 'Castles' were in their golden years to the withdrawal of the final members of the class from the Western Region in 1965, and include some illustrious names such as Caerphilly Castle and Pendennis Castle.
Following an informative introduction outlining the development of the class, the book is illustrated with 'Castles' year by year throughout the region, showing wide variations in the class and its operations.
The book contains approximately 200 mono and 30 colour photographs, most of which are previously unpublished and drawn from the archives of the Great Western Society at Didcot, and accompanied by extended detailed captions.
Free Home Delivery
on all orders
Pick up orders
from local bookshops