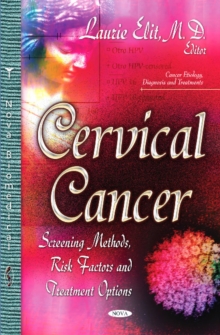 Cervical Cancer : Screening Methods, Risk Factors & Treatment Options
Hardback
Description
Globally, cervical cancer is the second leading cause of death for women with cancer.
This is a tragedy in part because cervical cancer affects women usually a decade sooner than other cancers when those women are in their reproductive years and in the prime years in the labour force.
While screening with the Pap test or other more recently evaluated tests have resulted in low cervical cancer rates in high resource countries, the lack of screening options in low resource countries means that many women present with symptoms reflective of advanced disease and so the chance of survival is low even with aggressive treatment.
In this book, we have an international spectrum of authors from both high and low resource settings.
We review the risk factors that lead to cervical cancer.
We discuss novel screening techniques including HPV testing.
We present the capacity for HPV vaccines to markedly reduce cervical cancer rates.
Planning and implementing an organised cervical screening program and the assessment of quality indicators as a means of evaluation is outlined.
In this book, we discuss novel operative options in early stage invasive cervical cancer as a means of preserving fertility.
Also, we discuss the role of neoadjuvant chemotherapy as a means of down staging the disease.
The role of surgically staging women to define more advanced disease is outlined including options for management of metastatic and/or recurrent disease with chemotherapy and targeted therapies.
The special situation of women found to be pregnant during the diagnosis of pre-invasive or invasive cervical cancer; and the diagnosis and management principles are reviewed.
Just as poliomyelitis has almost been eliminated in the lifetime of one generation, we look forward to the elimination of oncogenic HPV and its deadly ramifications particularly for women exposed to this virus.
Information
Format: Hardback
Pages: 392 pages
Publisher: Nova Science Publishers Inc
Publication Date: 19/03/2014
Category: Oncology
ISBN: 9781629480626