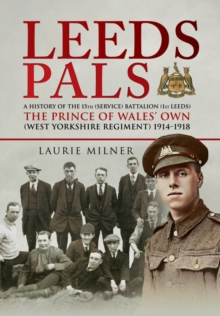 Description
The British Army's losses on the opening day of the Battle of the Somme - 1 July 1916 - amounted to some 57,000 men killed, wounded or missing.
Few units, however, suffered as terribly as the famous 'Pals' battalions, raised from volunteers who had flocked to answer Lord Kitchener's 'Call to Arms'.
In the North of England particularly, whole cities and towns went into mourning as news of that awful first day's casualties came through.
What is less well-known is that some of these battalions were brought up to strength with reinforcements - often from the cities in which they had been raised - and sent back into action again and again This is the story of one such battalion, the Leeds Pals, which by the war's end in 1918, was described as having been 'four times wiped out but fighting to the end'.
It is a story which traces, in great and fascinating detail, the raising and training of the battalion in and around Leeds, their service in Egypt before being sent to France in December 1915, their heavy losses in their baptism of fire on the Somme, 1916, in the Battle of Arras a year later, and during the German offensives of March and April 1918.Based upon the accounts of survivors, private diaries, letters and papers, official archives, contemporary newspaper accounts, and a wealth of unpublished photographs, it is a story of patriotism, entusiasm, humour, and great courage. Ultimately, however, it is a tale of great tragedy, for though the Leeds Pals took part in the final advance to victory, their three years in France had cost them 733 men killed, 1,861 wounded and 776 missing or captured.
Information
Format: Hardback
Pages: 320 pages, Illustrated
Publisher: Pen & Sword Books Ltd
Publication Date: 30/05/2015
Category: First World War
ISBN: 9781473841819
Free Home Delivery
on all orders
Pick up orders
from local bookshops