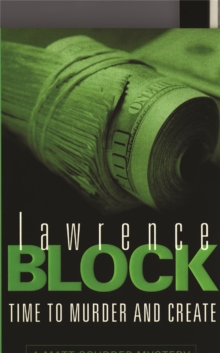 Time To Murder And Create
Paperback
Description
From the author behind the upcoming Hollywood all-star film A WALK AMONG THE TOMBSTONES - the second brilliant novel in the Matthew Scudder seriesThe Spinner is dead, bashed on the head and left to rot in a river.
There are three suspects. Henry Prager has paid enough for the sins of his daughter, and begs Scudder not to destroy his shaky business or the fragile girl's reformed life.
Beverly Etheridge cheerfully admitted all the sex acts Scudder had seen in the photos and she promises to show him a few more.
Theodore Huysendahl offers Scudder enough money to choke even a blackmailer's greed, a proposition no sane man would turn down.
Scudder's code of honour demands that one of them will pay...
Information
Format: Paperback
Pages: 176 pages
Publisher: Orion Publishing Co
Publication Date: 01/09/1999
Category: Crime & mystery
ISBN: 9780752827490
Free Home Delivery
on all orders
Pick up orders
from local bookshops
Reviews
Showing 1 - 2 of 2 reviews.
Review by ecw0647
16/06/2015
An early Scudder (apparently the second) when he was still off the wagon. Matt agrees to hold an envelope for"Spinner," a con so-named because of his habit of constantly spinning silver dollars on the table while talking to you. Spinner turns up dead and following the instructions left by Spinner, Matt opens the envelope to discover blackmail details on three otherwise upstanding citizens. Spinner's instructions are for Matt to find out who killed him, deal with that individual, and to leave the other two off the blackmail hook. Matt's only way to discover the identity of the killer is to set himself up as Spinner's successor, i.e. painting a big fat bullseye on his back. Needless to say things don;t quite work out as planned and Matt is forced to dispense his own brand of justice -- in this case one I heartily approve of.<br/><br/>A lot of rumination on the consequences of small actions. We never know what the outcome will be of any myriad of small decisions, e.g., what if we had left home 5 minutes earlier; would we have avoided the accident, that kind of thing. Really excellent example of Block's talent. Perfect for a short flight.
Review by branimal
16/06/2015
Matt Scudder has been entrusted with an envelope following the death of blackmailer, Jacob "Spinner" Jablon. The contents of said envelope you ask? Oh, nothing crazy, just evidence that could ruin the lives of three New Yorkers. Basically, Spinner has posthumously asked Scudder to find out who killed him. The only catch is that one of the 3 that Spinner had wrapped around his finger intends to silence Scudder just like they silenced Spinner. It all comes down to if Matt's mind can work fast enough to survive and deduce who killed Jablon.<br/><br/>I was hoping for something just as strong as The Sins of the Fathers and boy, oh boy, did I ever get what I wanted. Not only did Block add a bit of dry humour to Scudder and his encounters with the above mentioned 3 (a particularly hilarious line upon meeting Beverly Ethridge for the first time), he had my mind thrown all over the place as I consistently thought I had it all figured out.<br/><br/>Scudder is just such an awesome character. As I said in an earlier review, my love of "gray" anti-hero type characters has a great deal to do with why I love this series so much. I hate one dimensional good guys. Scudder has a past that he is constantly struggling with; the accidental death of a 7 year old girl when she inadvertently stumbled into a crime.<br/><br/>He says that he usually donates to the Catholic Church due to the fact that they're always open, that they seem to work the hardest. I think he identifies with their strong association with personal grief and guilt. He has no problem with causing mental anguish to those involved in solving a case but when an unjustified killing takes place, his whole mind seems to shut down and if he's not turning to booze, he's sitting on a wooden bench inside a church.<br/><br/>Maybe I'm just looking too deep into the character but this is where I found my mind wandering when I put the book down.<br/><br/>Nevertheless, I have ridiculously high hopes for the rest of this series. As many have pointed out, apparently it only gets better from here on in; something that I'm extremely happy with.